Booktrek Selected Essays By Karl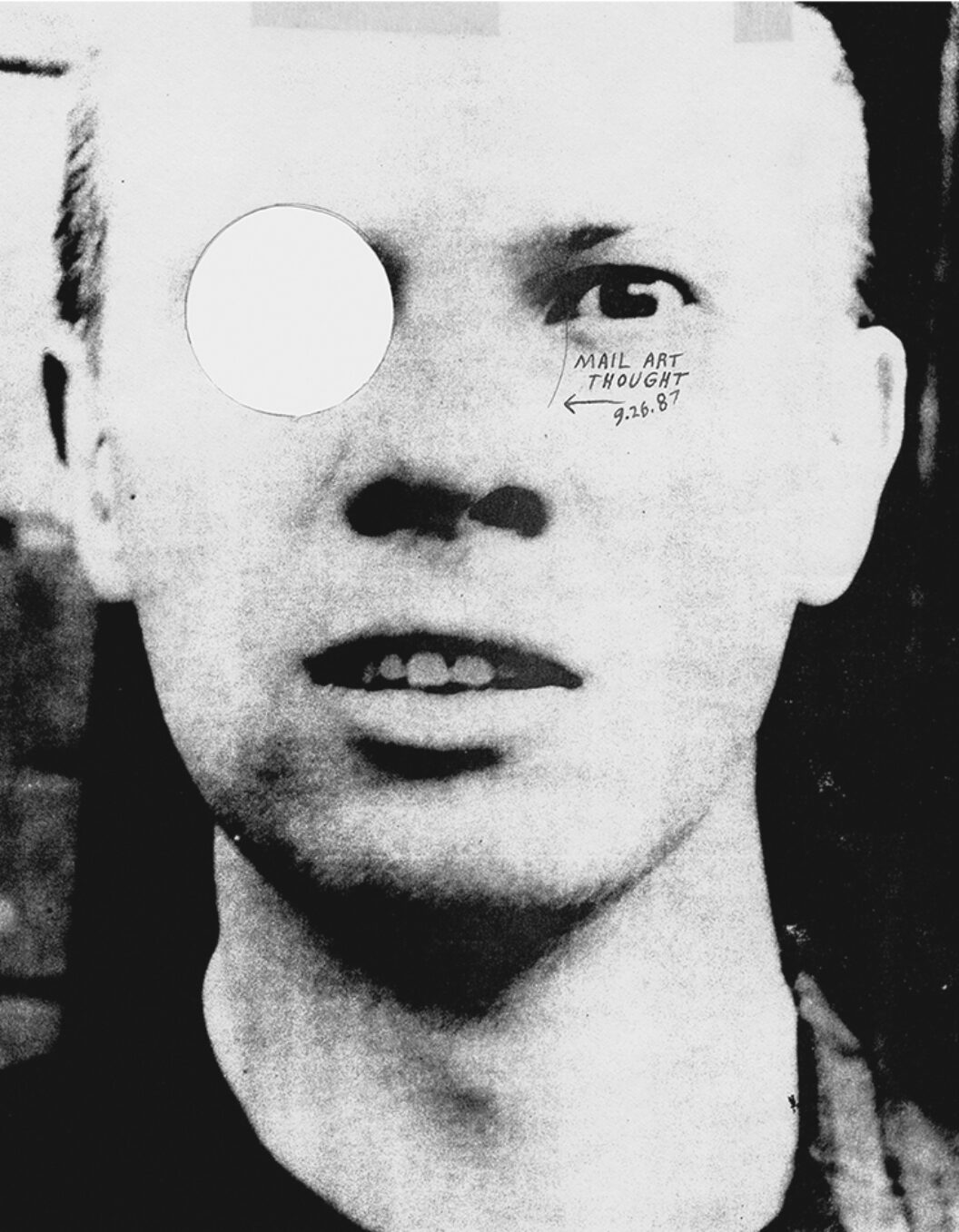 All images by Ray Johnson. Untitled, 1987. Courtesy of the Ray Johnson Estate and Richard L. Feigen & Co.
Almost twenty years after his death, Ray Johnson continues to be revealed as one of the most consequential figures in American contemporary art. The progenitor of correspondence art and an influential pioneer of pop art and conceptual art (though he eschewed all of these monikers), Johnson's curiosity resulted in an immense body of work that spans collage, correspondence, performance, sculpture, drawing, painting, and book arts. For better or worse, he embodied that over-glorified and under-recognized role of "the artist's artist." Johnson's dynamic life-art unfolded within a nexus of artists and media that read as a who's who and what's what of American art from the 1950s through 1970s, and yet he systematically refused or flouted all opportunities to popularize his work through mainstream art commerce.
Grace Glueck once wrote to me that Johnson sent letters to academics and journalists in the art world whose attention he wanted. Maybe, but it certainly wasn't fame he was after. So I guess the question is, what kind of attention? From what I can tell, Johnson was highly selective about whom in the art establishment he tried to engage. He sent letters to academic figures who he thought could and hopefully would correspond with him the way he wanted—persons who might match his intellect and interests, and parry with his acerbic wit; persons who might be game to enter into an alternative kind of correspondence via the oblique and contiguous relationships of words, ideas, and images. Clive Phillpot was one such favorite correspondent and friend of Ray Johnson's. Since Johnson's death, Phillpot has become one of the foremost scholars of his work. It was an honor to be able to talk with Clive and plumb his unique and illuminating insight into Johnson's art and person.
Elizabeth Zuba How did you meet Ray or first come to know his work?
Clive Phillpot In April 1966 I saw the inaugural issue of Mario Amaya's new magazine, Art & Artists. There was an essay by Bill Wilson with an image that stayed in my mind—a deadpan photo of Ray in front of a Howard Johnson sign. I saw some of his work in London at a pop art exhibition, then in a one-man show featuring his "Potato Masher" works at the Angela Flowers Gallery in 1973. At that stage I did not really respond to the collages.
I moved to New York and probably came across Ray's work here and there. Then in October 1980 John Russell wrote about me in a column in The New York Times, alongside a portrait photo. I think this, together with publicity from Franklin Furnace Archive, put me into Ray's orbit. He sent me an envelope containing several pages stamped: Please add to and return to Ray Johnson. I responded and seemed to have acquitted myself respectably since more mail followed. And the final piece of our connection came together when I actually met Ray while I was visiting the "Writing and Reading" exhibition at the Cooper-Hewitt Museum in September 1981, which included his work. I spotted him among the vitrines and introduced myself.
EZ Was the article in the Times on your scholarship on artist's books or your work at MoMA? Would you venture to surmise what guided Ray in his choices to pull someone into his orbit?  
CP It was related to both in a way. In his column, Russell stated that I was the librarian of MoMA, but he was focusing on a show I had done for Franklin Furnace on artists' magazines that accompanied earlier modern movements, including Surrealism and Dada. I think Ray picked up on these movements, on the museum, on Franklin Furnace, and the fact that I was talking about the "body language of movement magazines." He would respond to stories about people in the press, in the movies, on television, and write to them out of the blue—as he did with me.
He would also write to people he found in phone books who had interesting names, or others who were also named Johnson. He would write to people with a certain status like Joan Mondale, or movie stars like Joan Crawford, often without any introduction. He also wrote to such people as Jacques Derrida, though I imagine that the 1988 letter addressed to Derrida in your book was never actually sent to him. In September 1991 Ray told me he had just sent his first letter to Derrida after agonizing for ages. But the biggest galaxy of correspondents collected and connected by Ray was the art world: artists, critics, curators, dealers, et cetera, and many of these correspondences were among the longest lasting.
EZ Did he say why he agonized over writing to Derrida? That seems very unlike Ray to think twice about writing to someone. It makes me muse on why Derrida may have been of particular importance to him, but perhaps you have more concrete insight?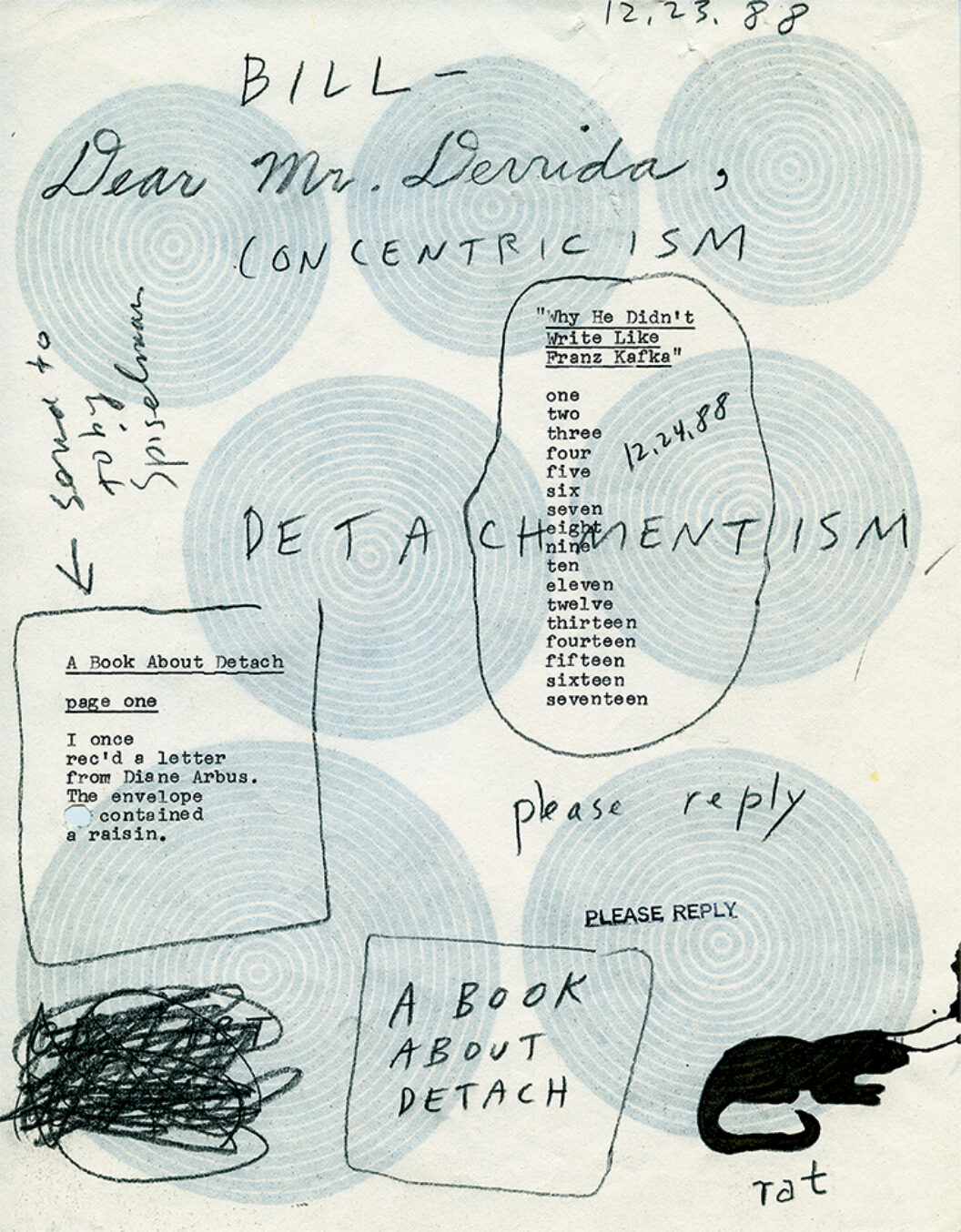 Untitled, 1988. Courtesy of the Ray Johnson Estate and Richard L. Feigen & Co.
CP Two things seem relevant. One of them is that, I believe, Ray became friendly with Derrida's translator, Alan Bass (whose name, Ray said, made him a "sitting patsy"). The other is that he got hold of Derrida's book, The Post Card. He later told me he had finally sent his first letter to Derrida via Alan Bass and that he had heard back that Derrida was interested in corresponding. Ray was working on a piece about him in the summer of 1991, and soon after seems to have had the possibility of actually meeting the writer, but he said, "I'm shy about meeting him." I don't know if it ever took place.
EZ Can you tell us a little about your correspondence with Ray? A sense of the communication? Any particularly memorable exchanges?  
CP I was in Moscow in August 1991 for a conference. After three uneventful days, President Gorbachev disappeared. For three days his whereabouts were unknown, because a coup had occurred. I sent a postcard to Ray (and others) from Red Square, saying that, though surrounded by tanks and military vehicles, I was okay. When I got back to the US and related my adventures to Ray, he sent me a bunny head containing my name—dropped out white on black, as usual—but with my name running vertically, which was not the usual way. When I asked him about this he reminded me that I had reproduced a bunny head of Karl Marx in the Philadelphia exhibition catalogue for "More Works By Ray Johnson" vertically, and had misunderstood that the head should have been horizontal, in reference to all the toppled statues (actually mostly of Lenin) in Eastern Europe. The fact that the Karl Marx head was horizontally augmented with Please send to Barnett Newman should have alerted me, but KARL MARX went the other way—and so did I. Thereafter Clive Phillpot bunny heads uniquely had the name running upwards. And just to add another wrinkle, the reference to Barnett Newman had, I think, something to do with "black marks."
EZ Ha! So, "black marks" as in Newman's vertical black marks (here toppled) and also Marxas in McCarthyism's black(listed) Marx?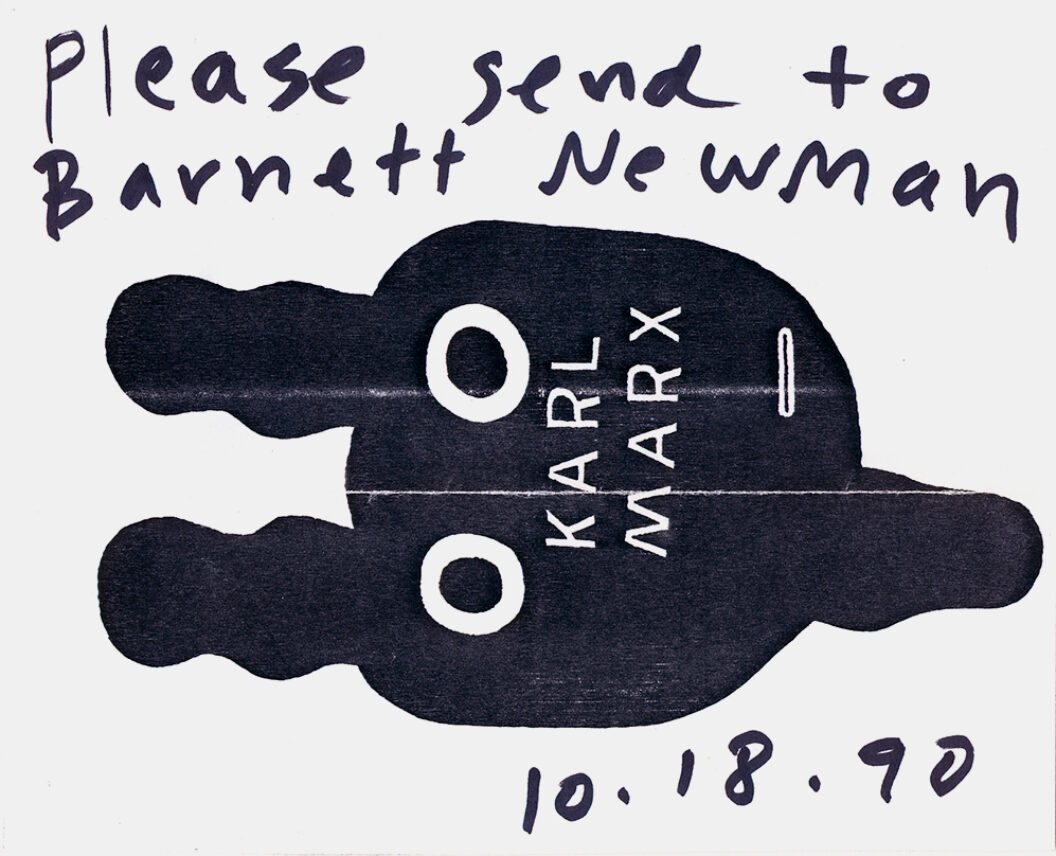 Untitled, 1990. Courtesy of Clive Phillpot.
CP I have just remembered a source of the "black marks." In 1992 Ray sent me an envelope of pages that included one like that reproduced in your book, also dominated by DE/AR in blue, stacked like a Robert Indiana, but with black overprinting. Also in the envelope was a page just bearing the letters TA/BM in green. This mystified me, but fortunately Ray had included a card which said, TA/BM = is thrown away black marks, which, I think, conflates two references to his work, one of them by the writer Marco Livingstone. There was also a reference to Chou En-Lai, but that's another story. Your response to all this is exactly right. A whirlwind of associations out of one or two Johnsonian juxtapositions!
EZ Wait, what is the Chou En-Lai story?
CP I had noticed Anna May Wong's recurrence in his work and simply thought that it must be that her name appealed to Ray, and I'm sure it did—just like Wanda Gag. However, I finally asked him why he referred to her so often. Although I didn't get a direct answer, he told me that she had appeared in a Marlene Dietrich film, in a train compartment. He seemed well aware of her career since he also told me that she played an Eskimo in her last film.
Anyway, months of regular correspondence went by, then out of the blue—as usual—I received an envelope from Ray containing just one sheet with a bunny head bearing the name Anna May Shun and the message: Clive Phillpot: Who is Anna May Shun? I pondered. Then I looked up a picture of Chou En-Lai, made a photocopy, and added long black ears like Goofy. I captioned the new picture Chou En-Gum, and added: Anna May Shun is the half-sister of Chou En-Gum.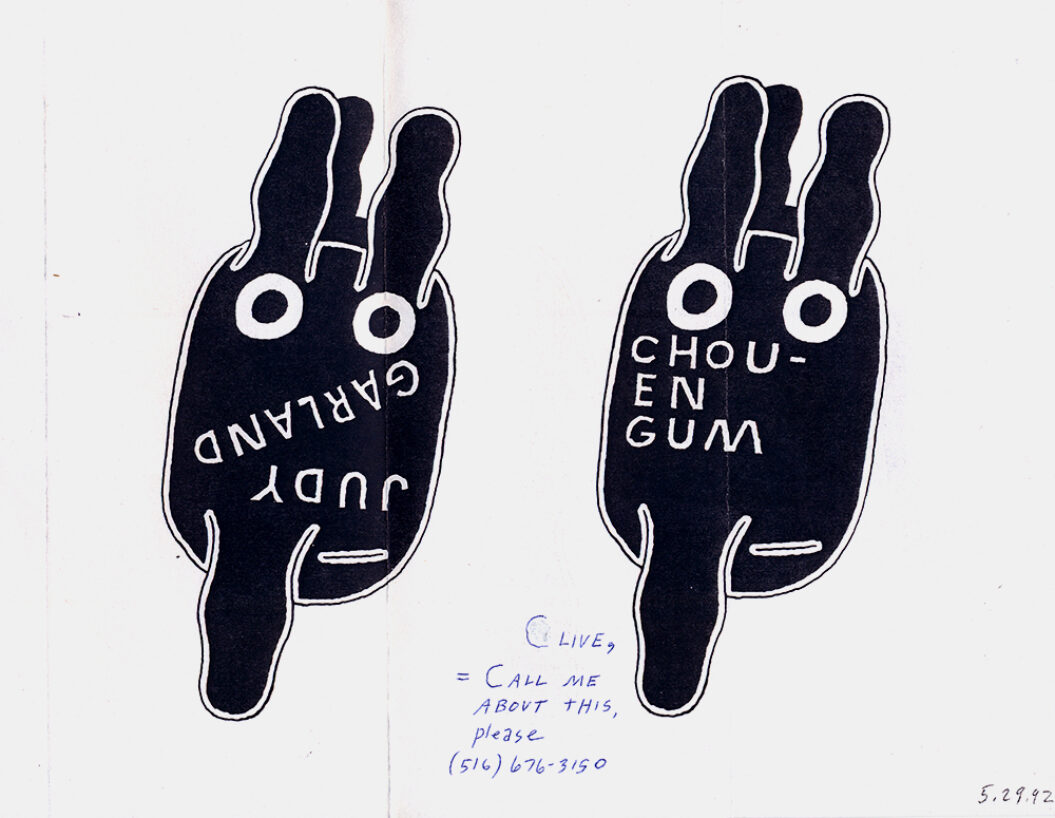 Untitled, 1992. Courtesy of Clive Phillpot.
Within a few days back came another envelope and inside were two bunny heads. The left one said Judy Garland (her name upside down), and the right one said Chou-En Gum. Underneath: Clive. Call me about this, please. I was stumped. So I did as requested, and when we connected the first thing I said was, "Why is Judy Garland next to Chou En-Gum." And Ray said, "Because her real name is Frances Gumm!"
Simple. Yet not.
EZ The endless whirlwind! One can get lost forever in the multiple references and possible significations. Dick Higgins talks about how certain words or phrases in Ray's works take on new or alternate, sometimes even prescient, meanings as time passes—how they feel alive to the present despite their very specific loci (references, dates, names). Have you had this kind of experience with Ray's work?     
CP My take on Ray's mail art, as well as his reliefs and drawings, is not so much to find them addressing the present but rather that something from the past occasionally detonates into my present—in particular, having a penny drop for me after so many years have passed or belatedly realizing the significance of a detail I missed at the time. For example, there is a mail art piece in which Ray has taken a photographic image of James Dean and added a black pipe to his profile. Under the head are three lines of graphic moticos. When I first saw this image I immediately thought of René Magritte, but what I missed then was an apostrophe in the second batch of moticos. This was the clue to the riddle of the composite image, for Ray had disguised the French Ceci n'est pas une pipe with the abstract black shapes.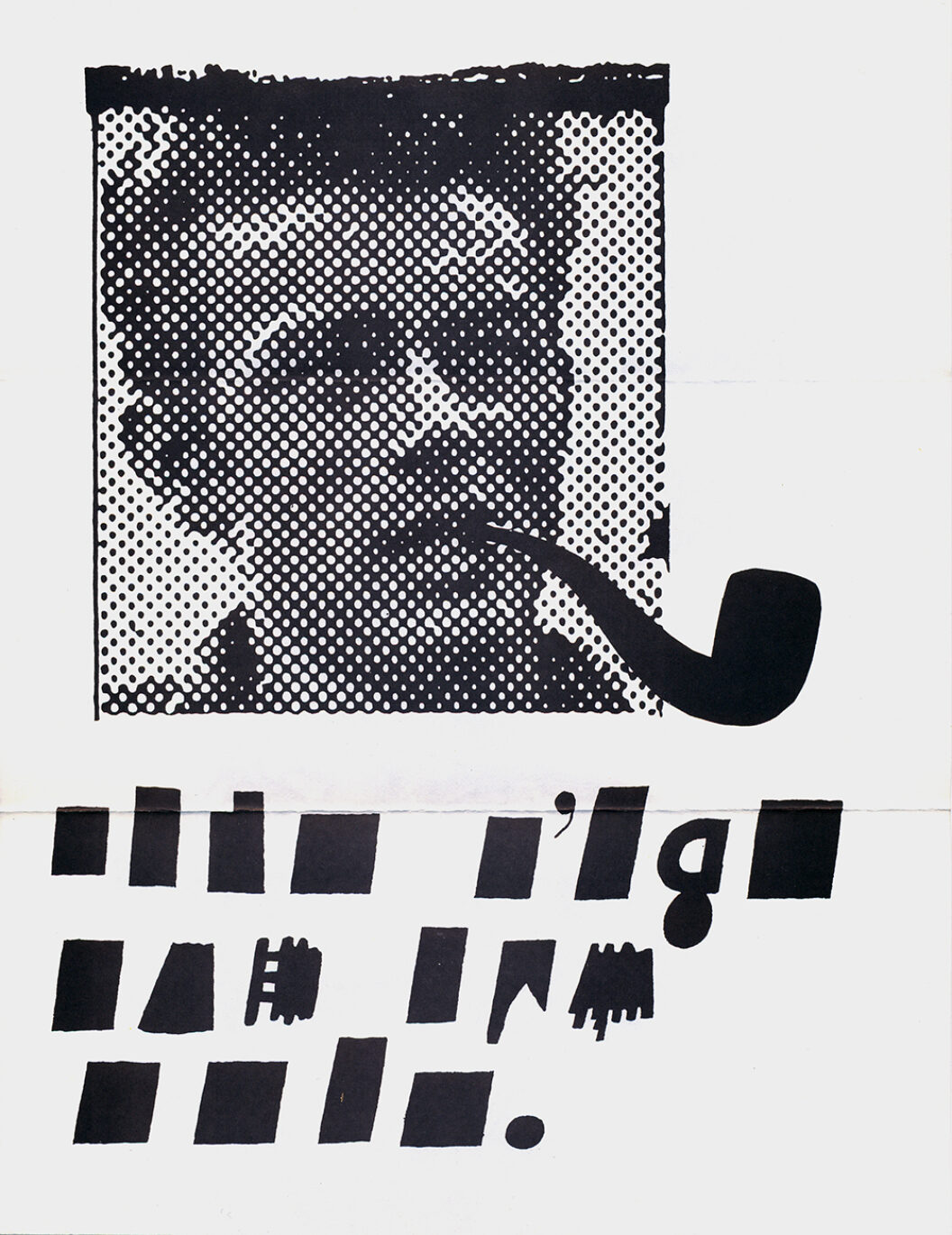 Untitled, ca. 1980. Courtesy of Clive Phillpot.
A rather different case concerns my puzzlement at Ray's relief that includes a photo of Ed Ruscha captioned Keir Dullea Gone Tomorrow. What was the connection between these two? It only made sense years after I first saw it when an American friend spoke the title and pronounced Dullea, not as Dull-ee-a, but Dull-ay. This not only drew attention to the mispronunciation of Ed Ruscha's name, as in Ed Russia, but once I got it right, made sense of it as "here today gone tomorrow." Satori!
EZ Hidden words inside words, meanings through meanings. Mark Bloch recently alerted me to the thread of Duchamp's Why not Sneeze, Rose Sélavy in Ray's work, and I suddenly started seeing it everywhere, in all kinds of exciting contexts. But I wanted to talk about Ray's "Throwaway Art" and the origins of that phrase. What do you think constituted Throwaway Art for Ray?   
CP My hunch is that someone once described his mail art in this way, perhaps in a review, or in a conversation, and Ray's response was to make the phrase his own, just as he took over and continued to promote the remark about him possibly being "New York's most famous unknown artist." He also incorporated the phrase "Throwaway Gesture" into his mail art. But another context is performance. In 1978 he did the "'Throwaway Gesture' Performance" at the Walker Art Center, and then followed this a month later with "'The Thoreau Away Gesture' Performance" at the Detroit Institute of Arts. I can't quite remember if it was on one of these occasions that he stripped and streaked the auditorium.
EZ Yes, the streaking was at Walker Art Center, I think. Do you see this as related to Ray's concept/medium of "Nothing"? You've written extensively on Nothing in Voids: A Retrospective (JRP/Ringier, 2009) and elsewhere, but perhaps you could give us a brief description and background of this foundation of nothingness for Ray and his work?
CP I said earlier that "A Throwaway Gesture" appeared in Ray's mailings. The one I was thinking of has the written word THROOOOOWAWAY extended in the middle by a drawing of a pipe-like object, which is then doubled—as is the word Gesture—all sitting over the words SHAKUHACHI and SHIGEKO KUBOTA, also doubled. I mention this because I had never before investigated shakuhachi: I now find that it is a Japanese flute used by certain Zen monks. Shigeko Kubota is the Japanese-American artist close to Fluxus—and wife of Nam June Paik.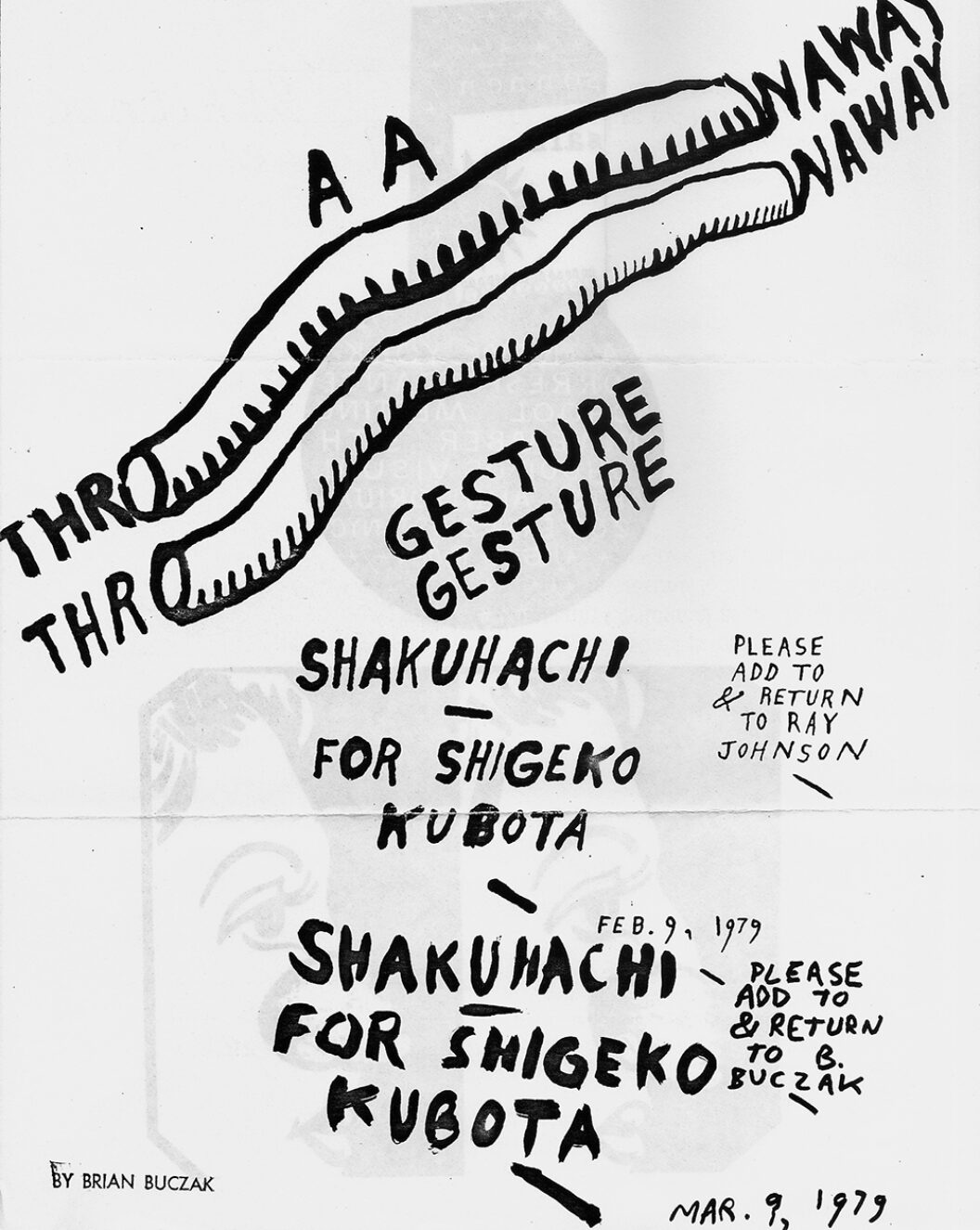 Untitled, 1979. Courtesy of Clive Phillpot.
My contention is that Ray became well-acquainted with Asian religions and philosophy, including Zen, in the 1950s and 1960s by several routes: Black Mountain College and John Cage, Ray's friend Norman Solomon, and Ray's part-time job at the Orientalia Bookstore in New York. His prime Nothing piece was at George Maciunas's AG Gallery in 1961. There are several accounts of this event, or concert, which disagree over details but which suggest the core of the piece was that Ray, situated in a near-empty gallery to which people had come to witness his Nothing, suddenly threw a handful of short dowels from the second floor down the stairs to the first. It was also very dark and it would seem that some visitors were startled. It was all over so quickly amid some confusion that it became almost a mythical event. From this point on, having achieved almost the antithesis of a happening and a work subject to rumor and misunderstanding, Ray ran with the concept. He held meetings, usually of the New York Correspondence School, during which Nothing happened. He announced a "Ray Johnson Nothing" at "no gallery" in the art section of The New York Times, and more and more used Nothing in his mail art, often in bunny heads. Thus perhaps it is possible to bring together Throwing Away– emptying out—and Nothing through Zen practice.
EZWAWAY as in WeiWei? Or maybe Wu Wei—the Taoist concept of non-action, non-doing? It is curious how emptying or voiding was the central concept of Ray's work and yet he was one of the most exhaustingly prolific artists of the second half of the twentieth century, certainly in terms of his correspondence art. One of the most illuminating moments for me was your report in that essay in Voids that Ray dated both his work in Nothing and his work in mail art to the same year, 1943. What do you make of that? Is this a case of it taking the visible to perceive the invisible?
CP One of the few early facts about Ray is that he started corresponding with his friend Arthur Secunda while they were both at technical school in Detroit, and that with Arthur's move to New York in 1943 their illustrated correspondence increased. Ray was rather embarrassed when letters to Arthur appeared in the North Carolina catalogue. Re-reading these letters I find no suggestion of Nothing, or even much introspection. It is difficult to look into the mind of a fifteen/sixteen year-old boy, and we may have to wait for the biography to attempt that, but perhaps his separation from his friend left a void?
EZTHROWAWAY but also THRONAWAY. It's interesting how the O is making the pipe to AWAY; it reminds me of his later circular cut-outs ("Mail Art Thought") and "o Art." As to Nothing and mail art, what I meant was that in 1993, Ray talks about celebrating fifty years of Nothing and also fifty years of mail art. That sounds like a telling equation, and makes me think that rather than Nothing being a concept consciously explored through his art (though it was that) Ray saw Nothing as a medium.
CP Was 1943 a special year? Am I wrong in looking for a biographical trigger? Perhaps you are right that mail art and Nothing are intertwined, and that Nothing was not really articulated at the time. Perhaps he was simply provoked by Ben Vautier's festival commemorating thirty years of Nothing and responded with a ballpark figure for his own lengthy preoccupation? For me Ray's Nothing is more of a thing—albeit a no thing. Around the time Ray made this statement I wrote a jokey letter to Ben Vautier also in response to his announcement, in which I referred to Ray as a "nothing master" and included a photocopy of a page from the Japanese booklet published to accompany a Noh play in Tokyo, as a little noh thing from me. I also sent Ray a copy. Within a few days Ray sent me a letter that began Dear Clive Phillpot, but he followed this with his redrawing of a whole page of the Japanese script about the Noh play! Then where one might have expected a signature there was: NOTHING / CAIRO, ILLINOIS. He had also traced out the word CAIRO in his greeting at the top of the letter. For Ray, something nearly always leads to an apparently disparate other.
EZ I love that my brain is going to spend the next few weeks trying to put together Noh theater, Nothing, and Cairo, Illinois. When and how did you get into mail art? Was it that first correspondence with Ray in 1980?
CP I guess I might have caught the scent of mail art when I started work in London at the Chelsea School of Art in 1970. But a specific encounter occurred after I had been offered the chance to write a monthly column in the magazine Studio International in 1972. This column, entitled "Feedback," was intended to draw attention to publications that did not get noticed in the regular book review sections of magazines. So it reported on other art magazines, artists' magazines, art exhibition catalogues, and pamphlets and small booklets by artists that I soon nominated book art. But in my first column I ranged more widely still and mentioned two just-published Rolling Stone articles on "Correspondence Art" by Thomas Albright. The simple fact that I cited these articles opened up my mailbox to mail artists—primarily from the US and Canada. But I did not subsequently jump on the mail art merry-go-round, rather I paid attention and occasionally made reference to it in my column. Then over the years I would sometimes respond in a non-traditional way to a communication from an artist who provoked me—as Ray was to do later.
EZ Speaking of book arts, would you tell us a little about the Book About Modern Art? And Ray's artist books, in general?  
CP I have written about the Book About Modern Art at some length in my book Booktrek(RP/Ringier, 2013). The title is a glancing reference to Ray's Book About Death, which appeared in installments from 1963 to 1965. This earlier so-called book was a sequence of legal-size graphic sheets variously numbered. Ray mailed them to correspondents, but he said that few people received all the pages. The Book About Modern Art was also a sequence of graphic sheets but these were sent to me at—and for—the Museum of Modern Art in 1990, where they now reside. Every few days I would receive a mailing that usually contained a cover letter and four "pages" of the book. Ray originally intended to send twenty-six parts, each of twenty-six pages. (The number 26 might relate to my frequent banging on about Ed Ruscha's book Twentysix Gasoline Stations?) But Ray, being Ray, gave up on the series at the end of the second part. It is difficult to summarize the contents but they certainly revolve, in a Johnsonian way, around the modern art that is at the core of MoMA. Despite the process, and the format, Ray was actually interested in commercial publication. Perhaps the work is a kind of printout of Ray's meditations on, and personal experience of, modern art?
As for Ray's other artist books, in the 1950s he made some beautiful, irregular, and unique books that related closely to his moticos, as well as a couple of little offset booklets with wordplay. Some of these books were the result of Ray seeing a Bruno Munari exhibition at MoMA in 1955. I often suggested to him that he make more books, and in 1992 he sent me a photocopy of some photos of about ten pages of a little book he called the No Exit book, laid out on the ground, though I don't know if these dated from that year. Maybe these graphic pages are now in the Ray Johnson Archive? I would love to see them posthumously published.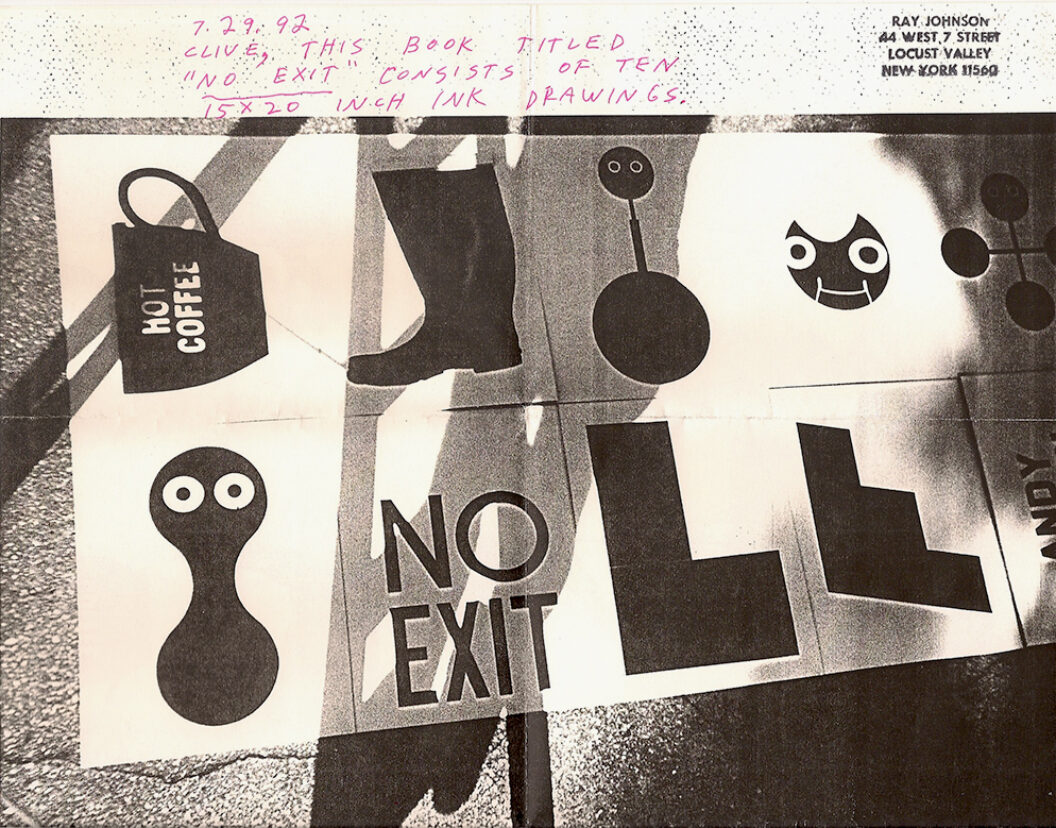 Untitled, 1992. Courtesy of Clive Phillpot.
EZ Can you say more about "the Johnsonian way" that the Book About Modern Art revolved around the collection at MoMA? I am guessing that rather than the pages generally being so much about anything, they likely tend to expand kind of contiguously, through oblique associations and multiple meanings, out into totally unexpected territories. Also, can you highlight page one for us? And your thoughts on that Nothing?
CP Yes, I think you are right: the association with the MoMA collection is more tenuous than I remembered. Even though Alfred Barr has a walk-on part, and Picasso, Mondrian, and Magritte are name-checked, most of the book concerns Ray himself and people whom he knew and/or worked with like Warhol, Maciunas, Cage, de Kooning, and Close. As for the first page, which shows an outline drawing of Ray's profile containing just the word NOTHING, for me this represents him thinking his way into the book project, starting from nothing. It is intriguing in many ways. How often does one see/read an author/artist open a work with such a subjective statement? I think he has made visible the very beginning of his creative process.
Maybe what is most interesting about Book About Modern Art is not what it is, or just that it splutters to a premature close, but that it then continues as A Book About Cranky Ant and in several other guises. These various books might more rewardingly be considered as a whole, documenting the twists and turns in Ray's creative process.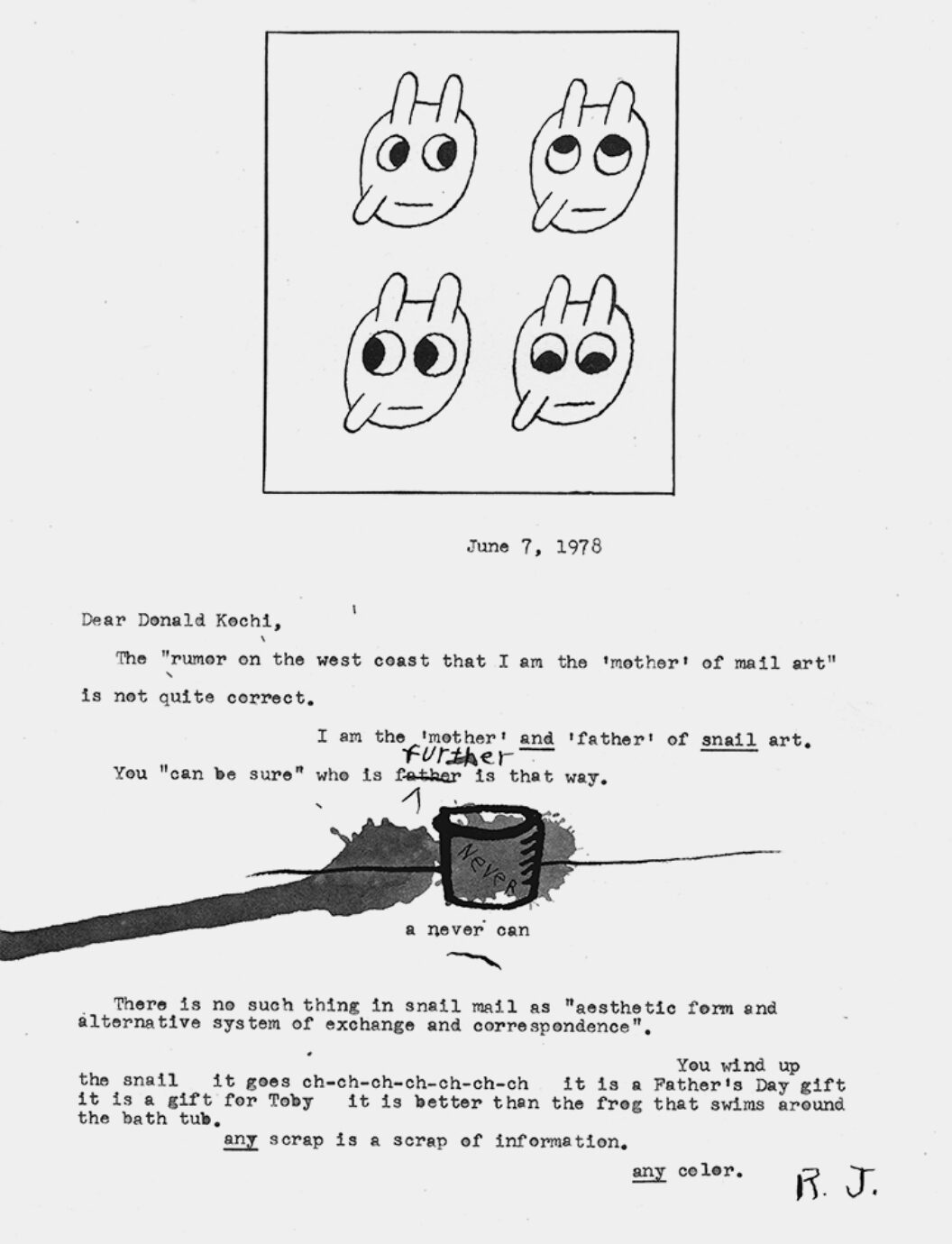 Untitled, 1978. Courtesy of the Ray Johnson Estate and Richard L. Feigen & Co.
EZ That kind-of macro purview is something that seemed necessary in Not Nothing as well—not that you can ever get out of the density enough to really see the forest, but you do see some trees begin to coalesce and take shape in terms of certain of Ray's gestures, articulations, and voices. Let's talk more about those twists and turns in terms of language. How do you see the text (language, typing/typography, names, et cetera.) working in Ray's work?    
CP This is a vast topic. The early pages in your book illustrate some letters that are fairly conventional in their presentation, just as sometimes a phrase in an early relief is just a title and not really part of the composition. But Ray quickly moves into making the words live as visual elements, in either a sheet of mail art or a relief. His brilliant draughtsmanship and calligraphic skills unite words and images in dynamic interrelationships. One of my enthusiasms is visual poetry and some of Ray's texts, even quite early on, have at least an idiosyncratic connection with many such works. There is his "Poem for George Brecht's Dog" in the Fluxus newspaper cc V Tre, which goes "Tp Tp Tp Tp …" and "K K K K K …" But I cannot now recall where I once found others. Then again there is his minimal co-authored "Laughter Poem for James Waring" in An Anthology, which goes "ha ha, ha ha, ha ha …" and so on. Furthermore we can go on to Ray's play with simple texts, such as PALS/SLAP, SURF/FURS, TAOIST/TOAST and, of course, his derivation of Moticos from Osmotic, before sidestepping into ideograms like his rabbit/duck drawings. And I've only just started. His jokes and puns for example are priceless to me.
EZ Ray submitted a number of those kinds of sound/visual poems, like the "Poem for George Brecht's Dog" you mentioned, to a number of poetry journals over the years. But he also submitted things like a drawing of a chair to poetry journals! It seems to me that for Ray, in Charles Olson's words, "what IS is no longer things but what happens BETWEEN things"; not only for the way he communicates with and experiences language, but also images, in terms of his visual work and gesture, in terms of his meetings and performance work. Does that resonate for you too?
CP Very nicely put. As for "BETWEEN," this certainly seems relevant to me in the visual work. Ray always seems highly aware of the effect of the white spaces in his reliefs and his graphic work. What comes to mind as an exemplification is the vase shape  generated by two human profiles; it would surely be appealing to Ray? Ray's invented serial biomorphic shapes, for example, have this double quality. The edges are electric—and seem to imply other complimentary forms hovering around the black shapes. Even in the marvelous, constantly reworked, late works, what remains of white shapes in the density of the compositions are still more than leftover spaces. Their forms are strong in their own right, even in the gloom of constant layering.
EZ I see this in his writings as well. The silent-negative spaces sometimes literally cut from the page, or just gaping, electric space between words or ideas, sometimes indicated with parentheses, as in (                ). They are definitively their own conduits. I was also thinking of collage in a general way, all the exchange, the coming and going, the relationships and activity between things rather than a focus on any foregrounded thing. You've written about some of Ray's NYCS meetings, how participants have characterized them as a collage of sorts, for which nothing was planned or preconceived by Ray, but instead the event was simply a mingling of unrelated peoples suddenly finding themselves together in the room (or on the page), all waiting for something to happen. Can you say more about this?  
CP The meetings were human collages. It would seem to me that it was no accident that the first meeting of the NYCS was held in a Quaker meeting house in Manhattan. Ray himself said that his meetings were meetings of friends and that this was a pun on Quaker meetings. But while the people in the Correspondence School had a connectivity through him, when his "friends" gathered together many were previously unknown to each other, and so they made new friends. Indeed many people spoke of the warmth generated by these meetings of strangers. Ray went on to memorialize some of the meetings with seating plans in which all the names were laid out in a grid on a flat surface. Thus he juxtaposed people on these plans like tesserae on his reliefs. However, I don't think we should regard these plans as recording actual placings—or even actual events. This was brought home to me after Ray died when a friend sent me a plan which included my name but about which I had known nothing. What is more, in my corner of the meeting Clive Phillpot (Cee-Pee) was sitting next to Camille Paglia (Cee-Pee), who was sitting next to Pee-wee Herman. Yet again, these connections dawned on me suddenly much later.
EZ The correspondences in Ray's work feel like friends, like homophone friends or graphic friends. I wonder if collage (including visual, text, human/meetings) extends from Nothing for Ray? They frequently seem intimately related, as in this example of his meetings.
CP Friends—and/or families? I think there is a third term that one might interpose between collage and nothing, and that is death. Ray once reported to me that his own death had occurred in 1966! Then again he produced a well-known mailing in which he gave his dates as 1927 to 1989, setting these in a large black triangle, also filled in with smaller triangles, at the height of the AIDS crisis. He also commonly included other people's birth and death dates in his collages. I've just realized that he made several memorial collages specifically in 1971, probably for the exhibition "Dollar Bills and Famous People Memorials." These include Anna May Wong, Yukio Mishima, Diane Arbus, René Magritte, and Janis Joplin, even though only one of them died in that year. I'm probably stretching this a bit, but these collages might serve as icons—even small tombstones—erected in the face of Nothing.
ABRAMS
Abrams double-checks the blueprints for Iggy Peck's Big Project Book for Amazing Architects by Andrea Beaty, illus. by David Roberts, featuring STEM and design projects and activities inspired by Beaty and Roberts's picture books; I Am Peace by Susan Verde, illus. by Peter Reynolds, modeling a calming mindfulness practice, The Emperor's New Clothes by Ying Chang Compestine, illus. by David Roberts, a twist on the traditional tale featuring "magical" new clothes; Danza!: Amalia Hernández and Mexico's Folkloric Ballet by Duncan Tonatiuh, profiling the dancer, choreographer, and founder of the titular dance company; and Starring Carmen by Anika Denise, illus. by Lorena Alvarez, in which a girl learns to share some of the on-stage spotlight she loves with her little brother.
ABRAMS/AMULET
Amulet gives fall the evil eye with The Curses by Laure Eve, the second volume about a glamorous coven as observed by Summer Grace; Nathan Hale's Hazardous Tales #7 by Nathan Hale, a yet-to-be-titled graphic novel about World War II; Like Love by Leah Konen, about a teen girl and guy who help each other win their lost loves back after meeting at the local virtual reality experience shop; The Epic Crush of Genie Lo by F.C. Yee, featuring a 15-year-old girl who discovers she has the power to bash the gates of Heaven with her fists as she defends her Bay Area suburb from a hellish demon; and Jack and the Geniuses: Book Two by Bill Nye and Gregory Mone, illus. by Nick Iluzada, in which Jack, his brilliant siblings, and inventor Hank tackle the mystery behind the sabotage of a tech billionaire's electricity plant.
ABRAMS/APPLESEED
Appleseed counts the ways with 100 Things I Love to Do with You by Amy Schwartz, an ode to friendship and love;, Tinyville Town: Time for School by Brian Biggs, in which the town comes together to send their children to school; Buildablock by Christopher Franceschelli, illus. by Peskimo, introducing readers to 24 construction machines; and In My Room by Jo Witek, illus. by Christine Roussey, a peek into the imaginary play of a spunky protagonist.
ADVENTURE
Adventure Publications licks its chops for What Eats That? by Ryan Jacobson, photos by Stan Kekiela, an exploration of an animal food chain of predator and prey.
AKASHIC/BLACK SHEEP
Black Sheep's got flow with What Is Hip-Hop? by Eric Morse, illus. by Anny Yi, produced by Nelson George, featuring rhyming text and 3-D clay illustrations; and The Broken Circle by J.L. Powers and M.A. Powers, first in a five-book YA series starring 15-year-old Adam, who has just learned he is destined to become a grim reaper.
ALGONGUIN YOUNG READERS
Algonquin Young Readers crawls into fall with Wicked Bugs by Amy Stewart, an adaptation of the adult guide to nature's scariest, most dangerous, and most repulsive bugs; The Dire King: A Jackaby Novel by William Ritter, the final volume in the series starring a Sherlockian detective of the supernatural and his assistant; All the Wind in the World by Samantha Mabry, a romantic, magical tale of forbidden love set on a new, possibly cursed, ranch in the desert; and Rise of the Jumbies by Tracey Baptiste, in which a girl who is half jumbie (demon) must clear her name when she is a suspect in the disappearance of children on her Caribbean island.
ANDERSEN PRESS USA
Andersen Press gets the giggles with The Tickle Test by Kathryn White, illus. by Adrian Reynolds, presenting what it takes to join the Tickle Squad; Elmer and the Tune by David McKee, in which Elmer tries to help pals get rid of the infectious earworm song spreading through the jungle; I Want Snow! by Tony Ross, starring a princess who demands snow in the middle of summer; Samson, The Mighty Flea by Angela McAllister, illus. by Nathan Reed, introducing the world's smallest strongman in Fleabag's Circus; and There's a Walrus in My Bed by Ciara Flood, about a child who gets his first big boy bed, and there happens to be a walrus in it.
ANDREWS MCMEEL
Andrews McMeel is on target with Laser Moose and Rabbit Boy: Disco Fever by Doug Savage, which finds the titular pals dealing with a truckload of mirrored disco balls dumped in the forest; Tyrannosaurus Ralph by Nate Evans, illus. by Vince Evans, about a boy who wakes up in the body of a T. rex after an encounter with a school bully; Zen Pencils for Kids by Gavin Aung Than, featuring inspirational quotes from such figures as Malala Yousafzai, Neil Gaiman, and Amy Poehler; Anne of Green Gables, adapted by Mariah Marsden, illus. by Brenna Thummler, a graphic novel version of the classic novel; and Phoebe and Her Unicorn in the Magic Storm by Dana Simpson, a graphic novel adventure inspired by the Phoebe and Her Unicorn comic strip.
ANNICK PRESS
Annick Press looks forward to the appearance of The Disappearance by Gillian Chan, about two troubled boys in a juvenile group home who become unlikely friends; I Love My Purse by Belle DeMont, illus. by Sonja Wimmer, in which Charlie is determined to carry his bright red purse, no matter what anybody says; #Not Your Princess: Voices of Native American Women, edited by Lisa Charleyboy and Mary Beth Leatherdale, in which young indigenous women break down stereotypes through essays, stories, music, poetry, and art; Turtle Island: The Story of North America's First People by Eldon Yellowhorn and Kathy Lowinger, which chronicles the life of Native peoples from the Ice Age to the arrival of Europeans in 1492; and Shadow Warrior by Tanya Lloyd Kyi, illus. by Celia Krampien, which tells the true story of a fearless ninja and her network of female spies in feudal Japan.
ARCHIPELAGO BOOKS/ELSEWHERE
Elsewhere Editions floats into fall with Feather by Cao Wenxuan, illus. by Roger Mello, about a feather in search of the bird to which it belongs;, and Goodnight, Mr. Clutterbuck by Mauri Kunnas, in which a mild-mannered goat sleepwalks into a series of adventures.
AUZOU
Auzou puts on its snowshoes for Leon the Raccoon Discovers the Great North by Lucie Papineau, illus. by Tommy Doyle, a picture-book trek to the Arctic.
BARRON'S
Barron's signs, seals, and delivers the season with Dear Dinosaur by Chae Strathie, illus. by Nicola O'Byrne, featuring a pen-pal relationship between a boy and the T. Rex skeleton at the local museum; Who's Hatching? by Jennifer Sattler, in which a pair of dinosaurs come across a big egg that will soon hatch; Great Escapes: Underground Railroad 1854: Perilous Journey and Great Escapes: Mount St. Helens 1980: Fiery Eruption!, two launch titles in a historical fiction adventure series by Gare Thompson; and Ella Bella Ballerina and the Magic Toyshop by James Mayhew, which finds Emma transported to a toyshop filled with magical dancing dolls.
BLOOMSBURY
Bloomsbury takes a seat atop Throne of Glass #6, concluding the bestselling series starring assassin queen Aelin, and The World of Throne of Glass, a companion volume exploring characters, creatures, and settings from the books, both by Sarah J. Maas; The Edge of Everything #2 by Jeff Giles, in which star-crossed X and Zoe must overcome boundaries in their two worlds to find their way back to each other; Lola Dutch Is a Little Much by Kenneth Wright, illus. by Sarah Jane Wright, starring a girl bursting with—perhaps an overload of— imagination and delight; , and Princess Snowbelle by Lucy Fleming, chronicling the adventures of the titular princess and her pony Icetail.
BOYDS MILLS
Boyds Mills has a few tricks up its sleeve with The Marvelwood Magicians by Diane Zahler, the tale of a family of magical performers who battle the evil ringmaster of Master Morogh's Circus of Wonders; Flashlight Night by Matt Forrest Esenwine, illus. by Fred Koehler, in which three imaginative kids explore the backyard at night by flashlight; Inevitable and Only by Lisa Rosinsky, focusing on 15-year-old Cadie's difficult adjustment when the half-sister she's just learned about turns her life upside down; The Goolz Next Door: A Bad Night for Bullies by Gary Ghislain, kicking off a paranormal series with a mystery about a ghost, a pack of missing bullies, and the terrifying Stone of the Dead; and Stolen Secrets by L.B. Schulman, in which Livvy finds journal entries from the Holocaust in her grandmother's home, and suspects a connection between her grandmother and Anne Frank.
BOYDS MILLS/CALKINS CREEK
Calkins Creek marks the calendar with Twelve Days in May: Freedom Ride, 1961 by Larry Dane Brimner, spotlighting the efforts of 13 black and white civil rights activists who traveled by bus to the South to draw attention to the unconstitutional segregation there; Bound by Ice: A True North Pole Survival Story by Sandra Neil Wallace and Rich Wallace, an exploration of how the USS Jeannette became locked in ice in 1879 while attempting to reach the North Pole; Now or Never: Fifty-Fourth Massachusetts Infantry's War to End Slavery by Ray Anthony Shepard, profiling George E. Stephens and James Gooding, African-American soldiers in the titular unit and the first black correspondents to report from the battlefield; Revolutionary Rogues: Benedict Arnold and John André by Selene Castrovilla, illus. by John O'Brien, recounting the story of traitor Arnold and his plotting with British major André during the Revolutionary War; and Not on Fifth Street: A Novel by Kathy Cannon Wiechman, featuring the struggles of two brothers during the record-breaking flooding of the Ohio River in 1937.
BOYDS MILLS/WORDSONG
WordSong turns a page for Read! Read! Read! by Amy Ludwig VanDerwater, illus. by Ryan O'Rourke, celebrating the joys of reading everything—including the back of the cereal box—via 23 poems and accompanying illustrations.
CAMPFIRE GRAPHIC NOVELS
Campfire takes a corner kick with The Beautiful Game: Survival by Jason Quinn, illus. by Lalit Kumar Sharma, featuring a once-great soccer club struggling to avoid being forgotten in its sport-loving hometown;,\ and Karna: A Victory in Death by Rik Hoskin, illus. by Sachin Nagar, a tale of a brave and noble man rejected by his family and community, adapted from The Mahabharata.
CANDLEWICK
Candlewick contemplates fall with Landscape with Invisible Hand by M.T. Anderson, in which an alien race arrives seeking to devour "classic" Earth culture, including true love, and pushes a young couple's relationship to the brink; La La La by Kate DiCamillo, illustrated by Jaime Kim, which follows a lonely girl as she journeys from one fantastical world to another; The Wonderling by Mira Bartók, the debut children's adventure fantasy from the award-winning memoirist and featuring the inhabitants of the Home for Wayward and Misbegotten Creatures; 42 Is Not Just a Number: The Odyssey of Jackie Robinson, American Hero by Doreen Rappaport, chronicling the extraordinary life of the man who broke the "rules" of segregation in athletics and beyond; and Where's Waldo? Destination: Everywhere! by Martin Handford, which follows Waldo as he revisits 12 favorite destinations in a new landscape format filled with new games.
CANDLEWICK ENTERTAINMENT
Candlewick Entertainment is on the prowl with Sneaky Snacky Squirrel illus. by Lucia Gaggiotti, a board book adaptation of the board game featuring a squirrel searching for the acorns he hid away; and tie-ins to Nick, Nick Jr., and PBS Kids programs: Ride: Kit Meets Covington by Bobbi JG Weiss, Peppa Pig and the Princess Castle, and Peg + Cat: The Pirate Problem, by Jennifer Oxley, illus. by Billy Aronson.
CANDLEWICK STUDIO
Candlewick Studio has all the answers with A World of Information by Richard Platt, illus. by James Brown, a miscellany of general knowledge; ABC Pop-Up by Courtney Watson McCarthy, offering small scale 3-D glimpses of everyday objects and hidden treasures; and Norse Myths: Tales of Odin, Thor, and Loki by Kevin Crossley-Holland, illus. by Jeffrey Alan Love, an illustrated anthology focused on the Norse gods of Viking folklore.
CANDLEWICK/BIG PICTURE PRESS
Big Picture Press spills Secrets of the Sea by Kate Baker, illus. by Eleanor Taylor, revealing the creatures that live deep below the ocean's surface; Alphamals: A-Z by Graham Carter, introducing the alphabet as well as animal facts; and The Greatest Opposites Book on Earth by Lee Singh, illus. by Tom Frost, opposites presented in novelty format containing pop-ups and pull-outs.
CANDLEWICK/NOSY CROW
Nosy Crow sets the table for Little Mouse's Big Breakfast by Christine Phym, starring a hungry mouse scampering through a kitchen on the hunt for some morning chow; The Velveteen Rabbit by Margery Williams, illus. by Sarah Massini, a newly illustrated version of this tale which launches the Nosy Crow Classics series; Dave's Cave by Frann Preston-Gannon, in which Dave is compelled to find out if there is something better out there than his perfectly cozy cave; Nothing Can Frighten a Bear by Elizabeth Dale, illus. by Paula Metcalf, a rhyming tale about bedtime fears; and What's Next Door? by Nicola O'Byrne, featuring the crocodile from Open Very Carefully who seeks readers' help in finding his way home.
CANDLEWICK/TEMPLAR
Templar digs How Plants Work: A Hands-On Guide to the Natural World by Christiane Dorion, illus. by Beverly Young, an interactive exploration of unusual plants and their characteristics featuring pop-ups, flaps, and booklets; The Fox and the Wild by Clive McFarland, in which city fox Fred sets out for a place called "the wild"; Trains by Ian Graham, illus. by Stephen Biesty, featuring 40 trains, presented with illustrations that include cross-section views, pop-ups, and flaps; A Day at the Dinosaur Museum by Tom Adams, illus. by Josh Lewis, a novelty book that takes readers on a natural-history-museum-style adventure; and The Lumberjack's Beard by Duncan Beedle, about a lumberjack who offers shelter in his beard to the critters whose homes he cuts down each day in the forest.
CAPSTONE
Capstone is abuzz with Zinnia and the Bees, in which seventh-grader Zinnia's bad day gets worse when a colony of honeybees mistakes her hair for a hive; A Different Pond by Bao Phi, illus. by Thi Bui, in which a father shares stories of his own childhood in Vietnam while fishing with his son in contemporary Minneapolis; A Loud Winter's Nap by Katy Hudson, which finds Tortoise's friends trying to convince him not to hibernate for the winter; Mabel Opal Pear and the Rules for Spying by Amanda Hosch, a debut novel featuring a family of spies caught up in a mysterious family crime; and Be a Star Wonder Woman!, about a girl facing her school fears by channeling Wonder Woman's heroic traits.
CAPSTONE/SWITCH
Switch buckles up for Black Light Express by Philip Reeve, the sequel to sci-fi adventure Railhead featuring godlike AIs and a sentient train; and Project You: More Than 50 Ways to Calm Down, De-Stress, and Feel Great by Aubre Andrus, a guide to discovering a calmer, more blissful mindset.
CATALYST/STORY PRESS AFRICA
Story Press Africa looks up to Shaka Rising: A Graphic Novel by Mason O'Connor and Luke Molver, illus. by Molver, the story of a charismatic young warrior prince who emerges from exile to forge a new and powerful kingdom of the Zulu in the midst of bloody conflict and political turmoil.
CHARLESBRIDGE
Charlesbridge is in the director's chair for Saturdays with Hitchcock by Ellen Wittlinger, about a 12-year-old movie buff dealing with the realities of a mom who's been laid off, a grandparent with dementia and a complicated love triangle involving her best friend; Baby Loves Quantum Physics by Ruth Spiro, illus. by Irene Chan, engaging young readers in a game of hide-and-seek with Schrodinger's famous cat; Last Laugh: Prehistoric Epitaphs by Jane Yolen and J. Patrick Lewis, illus. by Jeffrey Stewart Timmins, presenting poems framed as epitaphs for such extinct animals as the woolly mammoth and T. rex; Melvin the Mouth by Katherine Blanc, illus. by Jeff Ebbeler, a picture book biography of Mel Blanc, the voice artist and creator of Bugs Bunny, Porky the Pig and other characters; and Select by Marit Weisenberg, in which Julia disrupts the anonymity of her elite secret race of super humans and is banished to public high school.
CHRONICLE
Chronicle harnesses the reindeer for The Twelve Sleighs of Christmas by Sherri Duskey Rinker, illus. by Jake Parker, revealing the elves' clever, turbocharged solutions for sprucing up Santa's sleigh; Lines by Suzi Lee, a wordless picture book that blurs the lines between real and imagined; This Is Not a Valentine by Carter Higgins, illus. by Lucy Ruth Cummins, Higgins's picture book debut, a testament to handmade, wacky, bashful, honest love; Nothing Rhymes with Orange by Adam Rex, in which Orange feels left out when the other fruits sing a rhyming song about how wonderful they are; and Give Me Back My Book! by Ethan Long, illus. by Travis Foster, about friends Redd and Bloo's fight over the ownership of one special green book.
CHRONICLE/HANDPRINT
Handprint offers Touch Think Learn: Little Critters and Touch Think Learn: Wild Animals by Xavier Deneaux, two concept board book introductions to creatures of the natural world.
CHRONICLE/TWIRL
Twirl is cleared for takeoff with The Ultimate Book of Airports by Sophie Bordet-Petillon, illus. by Marc-Etienne Peintre, an interactive exploration of the inner-workings of an airplane; Please and Thank You by Thierry Bedouet, about the good feelings that come from having good manners; Dress Up Jojo by Xavier Deneux, which invites readers to use the sturdy moveable parts on each page to dress Jojo in his different outfits; and Fold a Flap Colors and Fold a Flap Opposites by Philip Giordano, introducing a series of concept books that uses flipping flaps to engage young readers.
CINCO PUNTOS
Cinco Puntos sharpens its scissors for Birdie's Beauty Parlor by Lee Merrill Byrd, illus. by Francisco Delgado, in which eight-year-old Birdie gives her tired grandmother a deluxe spa treatment; Jaya and Rasa Fall in Love, a romance between two teenagers in Hawaii challenged by cultural and gender norms; All Around Us by Xelena Gonzalez, illus. by Andriana Gomez, the story of a child and her grandfather creating family traditions while they garden together; Mexican Mythology by David Bowles, featuring broken pieces of ancient Mayan and Aztec mythology woven into a narrative; and Women of Mountains by Christine Eber, set in present-day Chiapas, Mexico, the story of two teenage friends who help each other build lives that straddle their traditional Mayan communities and impending globalization.
CREATIVE COMPANY/AMICUS INK
Amicus Ink touches its toes with I've Got Feet by Julie Murphy, illus. by Hannah Tolson, showcasing animals from around the world describing unique features of their feet and how they use them; and It's Not the Baby by J. Patrick Lewis and Leigh Lewis, illus. by Maddie Frost, a board-book whodunit that reveals who is making mischief in the house.
CREATIVE COMPANY/CREATIVE EDITIONS
Creative Editions sees the glass half-full with Next Year by Ruth VanderZee, illus. by Gary Kelley, about a child who survives the Dust Bowl and grows up determined to preserve the land rather than exploit it; A Year in the Woods by Henry David Thoreau, illus. by Giovanni Manna, featuring excerpts from the classic of American Transcendentalist literature; Chicken Wants a Nap by Tracy Marchini, illus. by Monique Felix, the tale of how everything conspires against a chicken who just wants to take an afternoon nap; and A Good Story by Zack Rock, imagining a new story for Assistant Bean Counter #1138, a pig who dreams of being an acrobat.
CRESTON BOOKS
Creston bundles up for Mr. Small's Chilly Adventures by JoAnn Adinolfi, the graphic-novel story of a hamster who meets a snowflake; Manjhi Moves a Mountain by Nancy Churnin, illus. by Danny Popovici, profiling Dashrath Manjhi who used a hammer and chisel to carve a path through the mountain blocking his Indian village from schools, markets, doctors, and other vital services; Lovely by Jess Hong, a debut picture-book that celebrates the different ways we are all beautiful; and Magic Hallows by M.L. Windsor, continuing the adventures of Jack and his best friend Nadine from Jack Death, this time in their wizardry boarding school.
DISNEY EDITIONS
Disney Editions skips down Memory Lane with Disney*Pixar Pop-Up by Matthew Reinhart, presenting a pop-up tribute to the canon of Disney*Pixar canon of film and characters; and Disney Princess Pop-Up Coloring Book by Matthew Reinhart, which instructs readers how to color and assemble scenes and pieces to create their own pop-up book.
DISNEY/DISNEY-HYPERION
Disney-Hyperion goes house hunting with Bruce's Big Move by Ryan T. Higgins, about a curmudgeonly bear who opened his cave to some rowdy friends sets off to find a new place to live; Sam, the Most Scaredy-Cat Kid in the Whole World by Mo Willems, in which Sam discovers that it's not Frankenthaler the monster, but her friend Kerry, who happens to be the second most scaredy-cat kid in the world; The Dreadful Tale of Prosper Redding: A Fiendish Arrangement by Alexandra Bracken, starring Prosperity Redding, who learns that a demon inhabiting his body is intent on stealing his family's fortune; Magnus Chase and the Gods of Asgard, Book 3: The Ship of the Dead by Rick Riordan, the third installment of the Norse mythology-adventure series; and The Ambrose Deception by Emily Ecton, spotlighting three middle schoolers chosen to compete for a scholarship by solving clues that lead them to various spots around Chicago, who find themselves working together to untangle a mystery.
DISNEY PRESS
Disney Press gets nocturnal for Meet Vampirina, an introduction to the star of the new Disney Junior animated program: a new girl on the block who happens to be a vampire; Tangled the Series: Original Middle Grade Novel by Leila Howland, inspired by the new Disney Channel TV program spin-off from the film Tangled; Coco Picture Book by Matt de la Peña, illus. by Ana Ramirez, based on the forthcoming feature film, Coco, featuring a Mexican boy named Miguel with a secret passion for music, and inspired by Dia de los Muertos; Tales from Adventureland: The Keymaster's Quest by Jason Lethcoe, in which Andy is drawn into a quest to save magical artifacts by journeying into the worlds of the attractions featured at Disney's Adventureland; and Mistress of All Evil by Serena Valentino, the fourth volume in the Villains series, this time starring Malificent from Sleeping Beauty.
DISNEY/FREEFORM
Freeform pours some sweet tea for The Belles by Dhonielle J. Clayton, set in the opulent world of Orleans where Beauty is the commodity coveted above all others; Follow Me by Sara Shepard, a mystery in which a 21-year-old social media star vanishes after spending a summer night at the Jersey Shore with her friends, and she looks hauntingly like someone who was killed five years earlier; and Autonomous by Andy Marino, featuring four friends' cross-country trip in Autonomous, a driverless car that knows where you want to go before you do—and is capable of downloading all of its passengers' digital history.
DISNEY/HYPERION
Hyperion scales the season with Apex by Mercedes Lackey, in which Joy must adjust to the politics of the Elite Command she's joined; Unearthed by Amie Kaufman, illus. by Meagan Spooner, about the discovery of a long-extinct alien race that has he potential to undo environmental damage and turn lives around; This Is Not a Love Letter by Kim Purcell, which focuses on the disappearance of Jessie's boyfriend, and Jessie's desperate efforts to help find him; The Sweetest Kind of Fate by Crystal Cestari, starring two matchmakers who struggle with whether to use a spell to turn a young woman into a mermaid so she can join the love of her life in the open seas; and Bad Call by Stephen Wallenfels, about a group of high school tennis teammates who have an unusual weekend camping trip in Yosemite.
DISNEY/HYPERION BOOKS FOR CHILDREN
Hyperion Books for Children gets new kicks for Elephant & Piggie Like Reading!: It's Shoe Time by Mo Willems and Bryan Collier, in which Sue is all set for the big day—except for which shoes she will choose to wear.
DISNEY/MARVEL
Marvel Press sneaks out for Runaways by Brandon T. Snider, featuring a group of teens who discover that their parents are part of an evil crime organization known as The Pride.
DK
DK keeps its eye on fall with Optical Illusions 2, large-scale optical illusions often enhanced with novelty components and deconstructed with scientific explanations; 13 ½ Incredible Things, featuring spreads that contain 13 bits of core and quirky knowledge, plus one myth-busting piece of information that explodes or confirms a half-truth; Nature Explanatorium, an exploration of nature that includes photographic close-ups, cross-sections, x-rays, MRIs, and exploded images; 3D Printing Objects, an illustrated guide to 3D modeling and printing, with step-by-step projects; and Dinosaur A to Z by Dustin Growick, showcasing more than 150 dinosaurs and other prehistoric creatures with specially commissioned CGI images.
DUNDURN
Dundurn grabs a mike for X Punk Rock Book by Warren Kinsella, the tale, inspired by true events, about how a group of punks in Portland, Me., defeated a murderous gang of neo-Nazis; The Snake Mistake Mystery by Sylvia McNicoll, in which two of Noble Dogwalking's canine clients lead Stephen and Renée into a mystery involving a stolen python; and Solomon's Ring by Mary Jennifer Payne, second in the Daughters of Light series featuring twin sisters and Seers Jade and Jasmine.
FLASHLIGHT
Flashlight Press pricks up its ears with No More Noisy Nights by Holly L. Niner, illus. by Guy Wolek, in which a mole discovers that his new underground home is inhabited by some spooky and noisy nocturnal creatures.
FLATIRON
Flatiron Books sets the timer for 13 Minutes by Sarah Pinborough, a thriller featuring Natasha who wakes up in the hospital after having been dead for 13 minutes; Girls Made of Snow and Glass by Melissa Bashardoust, which reimagines the Snow White fairy tale as a feminist fantasy; and Frankie by Shivaun Plozza, which follows a misfit girl searching for the truth about her family and finding herself, and falling in love along the way.
GRAPHIC ARTS
Graphic Arts keeps calm and carries on with It's Only the Wind by Mindy Dwyer, which aims to entertain, allay fears, and foster imagination when children have a hard time transitioning to sleep.
GROUNDWOOD
Groundwood puts it all together with The Mosaic by Nina Berkhout, in which a teenaged pacifist and a PTSD-afflicted Marine form an unexpected bond over a secret buried in a decommissioned nuclear missile silo; A Cage Went in Search of a Bird by Cary Fagan, illus. by Banafsheh Erfanian, featuring two lonely souls who find each other; Seamus's Short Story by Heather Hartt-Sussman, illus. by Milan Pavlovic, about a boy who discovers a way to appear taller when he plays dress up in his mother's closet; Louis Undercover by Fanny Britt, illus. by Isabelle Arsenault, the story of the child of an alcoholic father who is trying to make sense of his world; and Prince of Pot by Tanya Lloyd Kyi, a romance set on an illegal marijuana "grow-op."
HARLEQUIN TEEN
Harlequin Teen files a patent application for All Rights Reserved by Gregory Scott Katsoulis, featuring a girl who dares to remain silent in a world where every single phrase, gesture, and expression of affection is copyrighted or trademarked; The Gatekeepers by Jen Lancaster, the based-on-true-events story of teens who form a watchdog group to prevent more suicides from happening in their hometown; Red Dirt by Anna Jarzab, in which Sammy must face local criminals to learn who's responsible for her ex-con dad's disappearance; If There's No Tomorrow by Jennifer L. Armentrout, about a high school senior facing grief and guilt after a life-altering accident; and Someone to Love by Melissa de la Cruz, a contemporary romance about a girl under pressure to be perfect and popular who learns that loving herself is more important than any love that must be earned.
HARPERCOLLINS
HarperCollins plants a fall list with The Bad Seed by Jory John, about a bad seed who tries to be good, George and His Shadow by Davide Cali, illus. by Serge Bloch, the tale of how George and the stranger he meets in his kitchen—his shadow—spend the day together; Runny Babbit Returns by Shel Silverstein, another installment of never-before-published spoonerisms; The School for Good and Evil #4: Quests for Glory by Soman Chainani, in which Agatha, Tedros an Sophie discover that when it comes to Quests for Glory, success means eternal adoration and failure must result in certain death; and The Crims by Kate Davies, launching a middle-grade series packed with inept heists and capers, and a bumbling but likeable crime family.
HARPERCOLLINS/BALZER + BRAY
Balzer + Bray Books ranks the season with Top Ten by Katie Cotugno, cataloging the top 10 moments in a best friendship between a duo who should have nothing in common; Blue vs. Yellow by Tom Sullivan, in which two primary colors battle to determine who is the best; Love, Triangle by Marcie Colleen, illus. by Bob Shea, the story of how Triangle comes along and disrupts the longtime bond between BFFs Circle and Square, The Whiz Mob and the Grenadine Kid by Colin Meloy, illus. by Carson Ellis, featuring a diplomat's son who falls in with a gang of pickpockets and embarks on a secret life in the Marseille underworld; and The Glass Spare by Lauren DeStefano, beginning a fantasy duology about a princess who discovers she's cursed to turn any living thing she touches into a gemstone.
HARPERFESTIVAL
HarperFestival plans a purrfect fall with Pete the Cat: Meet Pete by James Dean, a tabbed board book; Danny and the Dinosaur: A Very Dino Christmas by Syd Hoff, featuring a new holiday tale based on the Syd Hoff classic, in which Danny and the Dinosaur decorate the museum for the holidays; and Max Tilt: Fire the Depths by Peter Lerangis, first in a new adventure trilogy.
HARPERCOLLINS/GREENWILLOW
Greenwillow Books loses count with A Hundred Billion Trillion Stars by Seth Fishman, illus. by Isabel Greenberg, a debut picture book illuminating some of the biggest numbers in the universe; Little I by Michael Hall, in which little i's dot falls off and tumbles into the sea and Little i leaves the alphabet to rescue it; The Doldrums and the Helmsley Curse by Nicholas Gannon, sequel to The Doldrums, which finds Archer's grandparents, who went missing on an iceberg 12 years ago, coming home; Calling My Name by Liara Tamani, a debut novel featuring an African-American girl who narrates her life from middle school to high school graduation; and Nothing by Annie Barrows, the story of two friends who know that being 15 is mostly just boring, and they set out to prove it.
HARPERTEEN
HarperTeen thinks big with Dare Mighty Things by Heather Kaczynski, kicking off a duology about ambitious 17-year-old Cassie who's been selected to compete for a spot on a mysterious mission to the outer reaches of space; They Both Die at the End by Adam Silvera, set in a future world where people are notified on the day they are going to die; Release by Patrick Ness, in which, over the course of one day, a young man grapples with his sexuality, his relationship with his evangelical family, and what happens when his world comes undone; The Last Namsara by Kristen Ciccarelli, the first installment in a YA fantasy trilogy starring a girl who must hunt the dragon who destroyed her town and caused her ostracization from society; The Afterlife of Holly Chase by Cynthia Hand, a contemporary reimagining of Dickens' A Christmas Carol featuring a teen Scrooge; Far from the Tree by Robin Benway, in which three adopted siblings find each other at just the right moment; and Ringer by Lauren Oliver, the sequel to Replica, which follows Gemma and Lyra as they try to stay safe in a world where humanity cannot be taken for granted.
HARPERCOLLINS/TEGEN
Katherine Tegen Books grabs the fire extinguisher for Before She Ignites by Jodie Meadows, beginning a fantasy trilogy about illegal dragon trafficking; The 12 Dares of Christa by Marissa Burt, featuring a 13-year-old girl who spends her first holiday away from home after her parents' divorce on a scavenger hunt made up of dares that take her all over Europe; Timeless: Diego and the Rangers of the Vast Atlantic by Armand Baltazar, the launch title in a fantasy-sci-fi adventure series; Monster by Michael Grant, kicking off a series about teens who morph into superheroes and super monsters when they ingest an alien virus; and This Darkness Mine by Mindy McGinnis, a psychological thriller about a split-personality love triangle.
HARPERCOLLINS/WALDEN POND
Walden Pond Press hoists the sails for The Sea of the Dead by Barry Wolverton, the third and final volume in the Chronicles of the Black Tulip alternate history fantasy series, featuring Bren's voyage to the Arctic to uncover the truth about his mother's death.
HOLIDAY HOUSE
Holiday House has a sweet tooth for Snickerdoodle Takes the Cake by Ethan Long, starring a young chinchilla with very little willpower; No Kimchi for Me by Aram Kim, featuring a cat who learns to love kimchi when her grandmother bakes it into a treat; Magic for Sale by Carrie Clickard, illus. by John Shelley, in which a boy is an overnight stowaway in a magic shop; and Spliced by Jon McGoran, a YA novel about gene-spliced teens fighting for survival in a futuristic society.
HOUGHTON MIFFLIN HARCOURT
HMH mushes into fall with Sled Dog School by Terry Lynn Johnson, in which an 11-year-old boy attempts to save his failing math grade by setting up a dog sled school; The Vanderbeekers of 141st Street by Karina Glaser, featuring five siblings who persuade their curmudgeonly landlord to let them stay in their Harlem brownstone; Big Machines: The Story of Virginia Lee Burton by Sherri Duskey Rinker, illus. by John Rocco, a fictionalized biography paying homage to the creator of Mike Mulligan and His Steam Shovel; and Meet Cute, which contains "how they met" stories from such young adult authors as Nicola Yoon, Sara Shepard, and Josh Sundquist.
HMH/CLARION
Clarion Books barks at the season with The Great Puppy Invasion by Alastair Heim, illus. by Kim Smith, in which hundreds of puppies invade a town where cuteness is considered criminal; Imagine by John Lennon, illus. by Jean Jullien, featuring the lyrics of Lennon's iconic song and visuals by graphic artist Jullien; Ghosts of Greenglass House by Kate Milford, sequel to Greenglass House, spotlighting 12-year-old Milo's search for a mysterious map and a famous smuggler's lost haul; Podkin One Ear: The Legend Begins by Kieran Larwood, the initial tale in a fantasy series starring three young rabbit siblings; and Nice Try, Jane Sinner by Lianne Oelke, a debut YA novel about a snarky teen who enters a Big Brother-esque reality show posing as a community college student.
ISLANDPORT
Islandport finds the right portal with The Door to January by Gillian French, a thriller in which 16-year-old Natalie travels through time to confront a serial killer and right the wrongs of the past.
KANE MILLER
Kane Miller adds it all up with Counting Through the Day by Margaret Hamilton, illus. by Anna Pignataro, a journey in rhythmic verse through simple everyday pleasures experienced from morning to night; Nibbles the Book Monster by Emma Yarlett, in which readers chase a book eating monster through a fantastical world of favorite fairy tales; Scribble & Author by Miri Leshem-Pelly, about how Scribble starts on a peaceful shore called The Beginning, and lands at the gate of The Ending; Fizz and the Police Dog Tryouts by Leslie Gibbs, illus. by Stephen Michael King, featuring four adventures for young readers with small, fluffy Fizz the dog; and The Curious Case of the Missing Mammoth by Ellie Hattie, illus. by Karl James Mountford, a lift-the-flap caper which finds a baby mammoth on the loose in the museum at midnight.
KIDS CAN PRESS
Kids Can clears the high bar with Leap by JonArno Lawson, illus. by Josée Bisaillon, presenting a circular story poem about a flea's journey of crossed paths; The Tiny Tale of Little Pea by David Cali, illus. by Sébastien Mourrain, in which a pea who's small enough to keep a ladybug for a pet finds the perfect job when he's an adult, but no larger, pea; Engineered! by Shannon Hunt, illus. by James Gulliver Hancock, exploring nine real-life problems for which engineers designed solutions; and The Way Downtown by Inna Gertsberg, illus. by Mike Lowery, a journey into the complex world of public transportation as seen by five characters traveling in an imaginary city.
KIDS CAN PRESS/CITIZENKID
CitizenKid never forgets with The Elephant Keeper by Margriet Ruurs, illus. by Pedro Covo, inspired by the true story of a teenaged Zambian boy and an orphaned baby elephant who was rescued from a hotel swimming pool.
KIDS CAN PRESS /KCP LOFT
KCP Loft puckers up for Kiss Me in New York by Catherine Rider, the story of two suddenly single travelers stranded at a NYC airport on Christmas Eve; and The Lost Causes by Jessica Etting and Alyssa Schwartz, in which five high school students randomly chosen for group therapy discover they've developed new superpowers to help solve a murder.
KINGFISHER
Kingfisher homes in on the season with these new entries to the In Focus nonfiction series: In Focus: Tropical Lands by Clive Gifford, In Focus: Reptiles by Barbara Taylor, In Focus: It's All About…Wild Cats, and It's All About…Slithering Snakes.
LAKE 7 CREATIVE
Lake 7 Creative takes the field for Back to Pass by Lisa M. Bolt Simmons, an interactive story that puts readers in the role of a homeless teen who becomes quarterback of the local football team and must make the proper choices throughout the book to win the game at story's end.
LERNER/CAROLRHODA
Carolrhoda sprays some air freshener for Stinker by David Zeltser, illus. by Julia Patton, starring a dog destined to remain at the pound unless he can learn to stop farting; Merry Christmas, Mary Christmas! by Laurie Friedman, illus. by Kathryn Durst, in which Mary finds a way to love Christmas with her family and their over-the-top celebration while spreading the joy throughout town; Monkey with a Tool Belt and the Silly School Mystery, the latest installment in the picture book series by Chris Monroe; Auma's Long Run by Eucabeth Odhiambo, set in 1980s Kenya, the story of a 13-year-old girl who must decide whether to pursue a track scholarship to high school or stay home and care for her struggling family as AIDS ravages their village; and The Notations of Cooper Cameron by Jane O'Reilly, about a boy with OCD behavior who invents rituals to cope with his fear of something bad happening in the wake of his grandfather's death.
LERNER/CAROLRHODA LAB
Carolrhoda Lab flits into fall with Paper Butterflies by Lisa Heathfield, centering on a girl who can't find the words to tell anyone she's being abused by her stepmother; A Dangerous Magic by Donald Hounam, in which brilliant forensic sorcerer Frank is called upon to investigate the case of a beheaded bishop; On the Free by Coert Voorhees, the story of three teens who must fight to survive after a mudslide wipes out multiple members of their wilderness therapy group; and Truthers by Geoffrey Girard, which finds Katie investigating her father's conspiracy theories about the 9/11 terrorist attacks in an attempt to help prove he can be released from a mental hospital.
LERNER/DARBY CREEK
Darby Creek gets ready for kickoff with The Clutch by Paul Hoblin, first in the six-volume Gridiron series about high school football players; Mallory Makes a Difference by Laurie Friedman, illus. by Jennifer Kalis, in which Mallory tries to make sure the meaning of Thanksgiving doesn't get lost in the hype over her school food drive; The Catacombs and The Curse of the Cairo Cat by Dan Metcalf, two titles in the Adventures of Lottie Lipton series featuring the sleuthing exploits of a nine-year-old girl who lives in the British Museum; and Alien Invasion by Israel Keats, in which gamers are chosen by a gaming corporation to live in one of their virtual reality worlds to test the game for glitches.
LERNER/GRAPHIC UNIVERSE
Graphic Universe navigates the season with Marco Polo: Dangers and Visions by Marco Tabilio, trans. by Kerstin Schwandt, in which Marco Polo joins his father and uncle on a perilous journey to the Mongol empire of Kubla Khan; Belinda the Unbeatable by Lee Nordling, illus. by Scott Roberts, featuring a magical round of musical chairs at school between two friends; The Missing Mola Lisa: Case #1 by Trisha Speed Shaskan, illus. by Stephen Shaskan, in which second-grade critters and investigators Q and Ray are on the trail of the world's most famous painting, which has gone missing; and #1 May's Wild Walk by Miss Paty, trans. by Nathan Sacks, the tale of the littlest Whiskers sister who gets swept up in the mailbag of Mrs. Owl, her letter carrier.
LERNER/MILLBROOK
Millbrook rolls out the welcome mat for All Kinds of Friends by Shelley Rotner and Sheila M. Kelly, photos by Rotner, an exploration of the many kinds of friends children have in their lives; Can I Touch Your Hair?: Poems of Race, Mistakes, and Friendship by Irene Latham and Charles Waters, illus. by Selina Alko and Sean Qualls, presenting paired poems on everyday topics like family dinners and recess, by Latham who is white and Waters who is black; and Dazzle Ships: World War I and the Art of Confusion by Chris Barton, illus. by Victo Ngai, a look at one man's incredible idea for saving ships from German torpedoes in WWI: Dazzle camouflage.
LITTLE BEE
Little Bee uses its noodle for The Great Pasta Escape by Miranda Paul, illus. by Javier Joaquin, in which the pasta living at a factory plan a run for it when they realize they will eventually be eaten by humans; Small by Gina Perry, about a girl who feels overwhelmed by the big world that surrounds her and uses her imagination to change her viewpoint; Curious Care of Bears by Douglas Florian, illus. by Sonia Sánchez, the follow-up to The Wonderful Habits of Rabbits, featuring a family of bears doing all their favorite things; and Snowball Moon by Fran Cannon Slayton, illus. by Tracy Bishop, in which the bright "snowball" moon on a snowy night compels children to come out and play.
LITTLE, BROWN
Little, Brown gets nothing but net with Becoming Kareem by Kareem Abdul-Jabbar with Raymond Obtsfeld, the basketball legend's first memoir for young readers focusing on three important coaches in his life; The Bad Mood and the Stick by Lemony Snicket, illus. by Matthew Forsythe, a deadpan tale of the mysterious and unexpected ways that bad moods move through the world; The Magic Misfits by Neil Patrick Harris, a magic-tinged launch title in the debut middle-grade series by the actor featuring four kids with special abilities; The Cruel Prince by Holly Black, kicking off a series about a mortal girl caught in a web of royal faerie intrigue; and an as yet untitled novel by Cressida Crowell that begins a fantasy adventure series starring an unlikely duo.
LITTLE, BROWN/PATTERSON
Jimmy Patterson Books says a mouthful with Big Words, Little Geniuses by Susan and James Patterson, illus. by Hsingping Pan, an ABC containing such sophisticated words as "Lilliputian" and their definitions; Christmas Candies by James Patterson, illus. by Andy Elkerton, featuring the Candies, who, in the midst of their holiday preparations, realize they've forgotten to get a Christmas tree; Hunting Prince Dracula by Kerri Maniscalco, which finds 17-year-old forensic medicine student Audrey Rose at a school in Romania investigating murders mimicking those of Vlad the Impaler; and Jacky Ha-Ha: My Life Is a Joke by James Patterson and Chris Grabenstein, focusing on middle-schooler Jacky's efforts to find time for her new passion for the performing arts while holding down a summer job and babysitting her siblings.
LITTLE, BROWN/POPPY
Poppy beats out a steady pulse with Instructions for a Second-Hand Heart by Tamsyn Murray, in which a teen boy who receives a heart transplant falls for the twin sister of his late donor.
JAMES LORIMER
James Lorimer puts fall in a headlock with Superhero Ninja Wrestling Star by Lorna Schultz Nicholson, about an undersized sixth grader who dreams of having comic-book-hero abilities to help him stave off bullies and win the girl; Love Is Love by Mette Bach, first in a romance series about a teen girl inspired by a transgender guy to try and find her true self in order to find true love; Team Fugee by Dick Maclean, kicking off a series of novels about soccer teams made up of young refugees who have escaped war-torn areas of the world and moved to Canada; and Trolled by Steven Sandor, in which a young swimmer must get his life back on course after a prank he pulled on a female swimmer on camera goes viral.
MACMILLAN/FARRAR, STRAUS & GIROUX
FSG makes a play with The Backfield Boys by John Feinstein, in which two star players and friends—one Jewish, one African-American—confront racism within the football culture at their elite prep school; Mama Africa! How Miriam Makeba Spread Hope with Her Song by Kathryn Erskine, illus. by Charly Palmer, a picture-book biography of the South African singer and activist; The Pout-Pout Fish and the Bully Bully Shark by Deborah Diesen, illus. by Dan Hanna, about Mr. Fish's attempts to keep the park a kind and friendly place despite a shark's bullying; The 57 Bus by Dashka Slater, the true story of an agender teen who was set on fire while riding a bus in Oakland, Calif.; and Writing Radar by Jack Gantos, a writing guide featuring the award-winning author's advice.
MACMILLAN/FARRAR, STRAUS, GIROUX/ FERGUSON
Margaret Ferguson Books polishes its tiara for In the Country of Queens by Cari Best, the story of an 11-year-old girl who finds the courage to right the wrongs in her life; The Night Garden by Polly Horvath, a middle-grade novel featuring a magic garden that grants wishes; Ready to Fall by Marcella Pixley, about a teen who finds hope and a fresh start through theater; How to Find an Elephant by Kate Banks, illus. by Boris Kulikov, in which a boy searches for an elephant that remains elusive to him but is visible to readers; and Goldenlocks and the Three Pirates by April Jones Prince, illus. by Steve Salerno. which finds Goldenlocks stumbling onto a pirate ship, surprising the crew.
MACMILLAN/FEIWEL AND FRIENDS
Feiwel and Friends closes its eyes for Wishtree by Katherine Applegate, featuring a red oak tree and a crow who help two friends work out their differences; You're All Kinds of Wonderful by Nancy Tillman, celebrating what makes every child special in their own way; Missy Piggle-Wiggle and the Won't Walk the Dog Cure by Ann M. Martin and Annie Parnell, illus. by Ben Hatke, another challenge for Missy Piggle-Wiggle as she cares for the children in the upside-down house; Alexander Hamilton, Revolutionary by Martha Brockenbrough, a teen biography of the Founding Father; and Berserker by Emmy Laybourne, in which a Norse teen and her family are forced to flee the American West to escape the effects of an ancestral Viking curse.
MACMILLAN/HENRY HOLT
Henry Holt sneaks down the chimney for Ninja Claus! by Arree Chung, in which a boy puts his ninja skills to the test against Santa; Sing, Don't Cry by Angela Dominguez, featuring Abuelo and his grandfather who realize true happiness comes from singing together; Foolish Hearts by Emma Mills, the story of a girl who finds new friends and maybe a new love when she participates in the high school production of A Midsummer Night's Dream; Tyrannosaurus Rex vs. Edna, the Very First Chicken by Douglas Rees, illus. by Jed Henry, a prehistoric throw-down; and Earth! My First 4.6 Billion Years by Stacy McAnulty, illus. by David Litchfield, which finds Earth explaining its formation and history in a nonfiction picture book.
MACMILLAN/ HOLT/ OTTAVIANO
Christy Ottaviano Books looks ahead to A Boy, a Mouse, and a Spider by Barbara Herkert, illus. by Lauren Castillo, a biography of author E.B. White; Ada Lovelace and the Computer by Tanya Lee Stone, illus. by Marjorie Priceman, celebrating the woman recognized as the first computer programmer; Building Amazing Creations by Sean Kenney, featuring a behind-the-scenes look at a LEGO master's body of work; Night of the Living Zombie Bugs by Dave Coverly, following two friends on a frightful odyssey through a zombie-filled forest; and Sticker Girl 2 by Janet Tashjian, another adventure for Martina and the unruly, brought-to-life friends from her magical sticker book.
MACMILLAN/HOLT/GODWIN
Godwin Books packs its suitcase for All the Way to Havana by Margarita Engle, illus. by Mike Curato, featuring a Cuban family's road trip into the city of colorful buildings and iconic classic cars; City Mouse, Country Mouse by Maggie Rudy, a retelling of the familiar tale with a new twist; Goodbye Autumn, Hello Winter by Kenard Pak, in which two children have a conversation with nature as they witness how the season changes; Little Elliot, Big Country by Mike Curato, focused on the polka-dotted elephant and his best friend Mouse as they take an unexpected trip out of the Big City; and Who Gives a Hoot? Calpurnia Tate, Girl Vet by Jacqueline Kelly, about Callie and Grandaddy's efforts to rescue an owl from the water.
MACMILLAN/IMPRINT
Imprint set up the snack table for Super Happy Party Bears: Bat to the Bone by Marcie Colleen, which finds the bears joining a rock band; The Equals by Daniel Sweren-Becker, the sequel to The Ones, about a girl fighting for the survival of genetically engineered teenagers after society deems them dangerous; The Real McCoys by Matthew Swanson, illus. by Robbi Behr, launching an illustrated middle grade series spotlighting a precocious young detective and her super-smart little brother; The Wicker King by Kayla Ancrum, a YA thriller about a young man dealing with his best friend's spiral into madness; and Game of Gnomes by Kirsten Mayer, illus. by Laura K. Horton, in which gnome Ginger competes in the Winter Gnome Games.
MACMILLAN/PRIDDY
Priddy Books hails fall with the following novelty early-concept books by Roger Priddy: Alphaprints: Animal Opposites, Counting Collection: Counting Dinosaurs, Look Closer: Into the Arctic, and Noisy Books: Noisy Trucks!
MACMILLAN/ROARING BROOK
Roaring Brook Press cracks up for After the Fall by Dan Santat, about the aftermath of Humpty Dumpty's famous fall; Thornhill by Pam Smy, featuring parallel plotlines set in different times, one told in text, the other in art, following a girl who unravels the mystery of the ghost next door; Draw the Line by Kathryn Otoshi, focused on two boys who learn about imagination, play, conflict, and forgiveness through simply drawing a line; Not So Different by Shane Burcaw, photos by Matt Carr, in which Burcaw, who suffers from spinal muscular dystrophy, answers an assortment of questions kids often ask him; and Maxie by Jennifer Mathieu, the story of how punk rock zines inspire a feminist revolution in a Texas high school.
MACMILLAN/ROARING BROOK/FIRST SECOND
First Second Books sharpens its skates for Spinning by Tillie Walden, a graphic memoir in which the artist recognizes her sexual identity as a lesbian and wonders if her role in the competitive figure skating world fits in with her values.
MACMILLAN/ROARING BROOK/ PORTER
Neal Porter Books is in hook, line, and sinker for The Only Fish in the Sea by Philip C. Stead, illus. by Matthew Cordell, marking the return of protagonist Sadie from Special Delivery, who devises a plan to save a discarded goldfish; When's My Birthday? by Julie Fogliano, illus. by Christian Robinson, a celebration of everything that is wonderful about birthdays; Snow Scene by Richard Jackson, illus. by Laura Vaccaro Seeger, blending together a winter tale and a playful guessing game; Nerdy Bird Tweets by Aaron Reynolds, illus. by Matt Davies, which finds Nerdy Birdy signing up for Tweetster and gaining a passel of new friends; and Another Way to Climb a Tree by Liz Garton Scanlon, illus. by Hadley Hooper, featuring a girl who uses her imagination to keep climbing trees even when she is sick and stuck inside.
MACMILLAN/SWOON READS
Swoon Reads keeps time for The Midnight Dance by Nikki Katz, in which a ballerina falls in love with the kitchen boy at a mysterious boarding school; Kissing Max Holden by Katy Upperman, featuring two teens fighting their building attraction; The Big F by Maggie Ann Martin, about a girl's efforts to forge a new path with her college plans are destroyed by a failing grade; Just Friends by Tiffany Pitcock, the story of two teens who have built a friendship out of lies and have to decide whether or not their love is true; and My New Crush Gave to Me by Shani Petroff, which finds a girl rigging the Secret Santa gift exchange to woo the boy of her dreams.
MACMILLAN/TOR TEEN
Tor Teen looks for harmony with Love Songs & Other Lies by Jessica Pennington, about two exes who reunite on a cross-country tour in a battle-of-the-bands reality show; When I Cast Your Shadow by Sarah Porter, in which a teenage girl calls her beloved older brother back from the grave with disastrous consequences; Blood and Tar by Kristen Simmons, a near-future adventure featuring a young woman pirate; Last Chance by Gregg Hurwitz, the sequel to The Rains,in which the Rains brothers fight to save humanity; and The Dark Intercept by Julia Keller, the launch title in a YA sci-fi trilogy set in a future world where citizens submit to emotional surveillance for their own safety.
MACMILLAN/TOR TEEN/STARSCAPE
Starscape fights the power with Ban This Book by Alan Gratz, about a girl who retaliates when her favorite book is banned from the school library by starting her own illegal locker library.
MAGINATION
Magination whispers with Did You Hear? by Frank Sileo, illus. by Jennifer Zivoin, exploring rumors and gossip and how they are like bullying; A Feel Better Book for Little Ones Who Worry by Holly Brochmann and Leah Bowen, illus. by Shirley Ng-Benitez, offering kid-friendly and cognitive behavioral therapy based calming tools; Feminism A to Z by Gayle E. Pittman, an introduction to feminism for teens; and I See You by Michael Genhart, illus. by Joanne Lew-Vriethoff, a wordless picture book about homelessness and community service.
MONTH9BOOKS
Month9Books consults its fairy godmother for Cinderella Necromancer by F.M. Boughan, in which a teen girl in 15th-century Germany practices dark magic on her evil stepmother with unintended results; Mad Magic by Nicole Conway, featuring a tough-talking changeling who swallows his pride and asks a girl with magical gifts for help breaking his curse; The Missing by Jerico Lenk, the tale of Will, who is called upon by the Black Cross Ministry of Mysterious Occurrences to use his supernatural talents to unravel a mystery; The Sponsored by Caroline T. Patti, about a girl in 2045 who undergoes genetic altering to prepare for a war she's keen to fight, until she finds out she's on the wrong side; and Savage by Nicole Conway, first in the Dragonrider Legacy series, a spin-off of the Dragonrider Chronicles.
MONTH9BOOKS/TANTRUM
Tantrum Books is on deck with Roger Mantis by Tom Brosz, in which a boy in 1970s America metamorphoses into a giant mantis, casting doubts on his future as a pro baseball player.
NATIONAL GEOGRAPHIC
National Geographic gets goosebumps with Don't Read This Book Before Bed: True Stories of Haunts, Horrors, Mysteries and Monsters that Will Keep You Up All Night by Anna Claybourne; Bet You Didn't Know, first in a series that highlights facts and stats in a variety of categories, including astronomy and dinosaurs; Hey, Baby!: A Collection of Pictures, Poems, and Stories from Nature's Nursery by Stephanie Drimmer, featuring baby animal photos and sentiments that celebrate nature; and Weird but True Christmas, focusing on Christmas facts, stats, and traditions.
NORTHSOUTH
NorthSouth Books stretches a new canvas for Frida and Her Animalitos by Monica Brown, illus. by John Parra, based on the life of artist Frida Kahlo and the vast menagerie of pets she kept; Monty Python's Book of Silly Walks, illus. by David Merveille, exploring a day in the life of Mr. Teabag from Monty Python's Flying Circus; and The Wind in the Willows by Kenneth Graham, illus. by Sebastian Meschenmoser, a new interpretation of the classic tale.
NUBEOCHO
NubeOcho comes out of its shell with A Surprise for Mrs. Tortoise by Paula Merlán, illus. by Sonja Wimmer; The Perfect Animal by Raquel Díaz Reguera, in which the teacher asks her students to dress up as their favorite animal; The Biggest Fart in the World by Rafa Ordoñez, illus. by Laure Du Faÿ, featuring a fart contest between all the animals in the jungle; The Stubborn Cloud by Palbo Albo, which finds Rabbit and Hedgehog asking a cloud to help bring the sun's warmth closer to them; and No Water No Bread by Luis Amavisca, illus. by Guridi, featuring two populations separated by a barbed-wire fence, where one population has an abundance of water and bread, and the other not enough.
ORCA
Orca sets its ringtone for Can Your Smart Phone Change the World? by Erinne Paisley, first in the YA Popactivism series, Speaking Our Truth: A Journey of Reconciliation by Monique Gray Smith, examining how we can foster reconciliation with indigenous peoples at individual, community, and national levels; Chinese New Year: A Celebration for Everyone by Jen Sookfong Lee, which explores the history of Chinese New Year celebrations through stories of personal experience; 90 Days of Different by Eric Walters, in which a girl challenges herself to do something different every day the summer before she goes to college; ; and Munro vs. the Coyote by Darren Groth, the story of a teen, devastated by the death of his younger sister, who hallucinates a terrible voice he calls the Coyote.
OWLKIDS
OwlKids checks out fall with Andrew Carnegie: The Man Who Loved Libraries by Andrew Larsen, illus. by Katty Maurey, a picture-book biography of the steel magnate and philanthropist who used his wealth to build more than 2500 public libraries around the world; When Planet Earth Was New by James Gladstone, illus. by Katherine Diemert, looking at planet Earth's evolution from 4.5 billion years ago to today; Clara Humble: Quiz Whiz by Anna Humphrey, illus. by Lisa Cinar, following the misadventures of fourth-grader Clara as she participates in a game show; Letters to a Prisoner by Jacques Goldstyn, a wordless picture book about the act of writing letters to political prisoners; and Ira Crumb Makes a Pretty Good Friend by Naseem Hrab, illus. by Josh Holinaty, in which Ira goes to extreme lengths to secure a friend during the summer so he won't be the friendless new kid at school.
PEACHTREE
Peachtree lets down its hair with Rapunzel by Bethan Woollvin, a new version of the fairy tale; Blacksmith's Song by Elizabeth Van Steenwyk, in which the son of an enslaved blacksmith learns that his father is using the rhythm of his hammering to communicate with travelers on the Underground Railroad; Miguel's Brave Knight: Young Miguel de Cervantes and His Dream of Don Quixote by Margarita Engle, illus. by Raúl Colón, spotlighting the early life of one of the greatest writers in the Spanish language; Dangerous Jane by Suzanne Slade, illus. by Alice Ratterree, profiling social activist and Nobel Peace Prize winner Jane Addams; and King & Kayla and the Case of the Mysterious Mouse, which finds King the dog and his human Kayla searching for King's missing red ball.
PEACHTREE PETITE
Peachtree Petite slips on its mittens for In the Snow by Elizabeth Spurr, illus. by Manelle Oliphant, depicting a girl's winter fun on a snowy day; and Stanley's Numbers and Stanley's Opposites by William Bee, featuring the adventures of Stanley and Little Woo as they introduce early learning concepts.
PETER PAUPER PRESS
Peter Pauper Press is down on the farm for Simpson's Sheep Just Want to Sleep! by Bruce Arant, about a farmer's newly adopted rescue puppy who has a knack for gently waking the snoozing sheep; and Mommy, Baby, and Me by Linda E. Marshall, illus. by Ged Adamson, in which a dog's world is turned upside down when his owner brings home a baby.
PENGUIN
Penguin Young Readers stops to smell the flowers with Ferdinand's Friends by Mickie Matheis, illus. by Zoe Persico, an early-reader tie-in to the feature film Ferdinand, adapted from the story of the peace-loving bull; We Need More Nuts! by Jonathan Fenske, spotlighting a pair of silly squirrels as they count all the nuts they gather; Happy Easter, Tiny! by Cari Meister, illus. by Rich Davis, which finds Eliot and his dog Tiny on an Easter egg hunt in the park; Where the Buffalo Roam by Kate Waters, providing an up-close look at the national mammal of the U.S.; and Max at School by Rosemary Wells, illus. by Andrew Grey, in which Max reads a book, dresses like a pirate and sings a song during his day at school.
PENGUIN/CARTOON NETWORK
Cartoon Network Books ushers in the season with licensed books in various formats from the following TV properties: Adventure Time, Ben 10, Powerpuff Girls, and Steven Universe.
PENGUIN/DAWSON
Kathy Dawson Books welcomes fall with Jane, Unlimited by Kristin Cashore, in which recently orphaned Jane visits a mysterious, art-filled mansion and makes several life-altering turns as she works through her grief; and The Forbidden Library, Vol. IV: The Fall of the Readers by Django Wexler, illus. by Alexander Jansson, concluding Alice's adventures in the Library, where she faces the collected might of the old Readers and their secrets.
PENGUIN/DIAL
Dial Books grabs a shovel for Digging for Trouble by Linda Fairstein, the second volume in the Devlin Quick Mysteries series, which finds Devlin on a dinosaur dig in the badlands of Montana; Tumble & Blue by Cassie Beasley, in which Tumble and Blue seek out a legendary wish-granting gator who can change the bad fates they've been cursed with; Things I'm Seeing Without You by Peter Bognanni, featuring a girl consumed by grief after her long-distance boyfriend's suicide, who receives a mysterious, shocking message; All's Faire in Middle School by Victoria Jamieson, a graphic novel about surviving middle school and its dreaded Renaissance Faire; and Sarah Bella's Thinking Cap by Judy Schachner, celebrating creativity and imagination via a
girl's daydreaming.
PENGUIN/DUTTON
Dutton Books locks the doors for There's Someone Inside Your House by Stephanie Perkins, in which a small town is terrorized by a serial killer targeting teens; When I Am Through with You by Stephanie Kuehn, focusing on a group of desperate teens attempting to survive a backpacking trip gone terribly wrong; Whichwood by Tahereh Mafi, companion tale to Furthermore, in which young Laylee is fated to wash the bodies of the dead; That Inevitable Victorian Thing by E.K. Johnston, a story of new love and centuries-old duty set in an alternate future where the British Empire never fell and the United States never rose; and A Line in the Dark by Malinda Lo, exploring how much a young artist can get away with when everyone assumes she's a quiet, harmless girl.
PENGUIN/GROSSET & DUNLAP
Grosset & Dunlap serves up fall novelty tie-ins to the following book properties: Matilda by Roald Dahl, The Very Hungry Caterpillar by Eric Carle, and the Ordinary People Change the World series by Brad Meltzer.
PENGUIN/PAULSEN
Nancy Paulsen Books puts one foot in front of the other with Les and Ronnie Step Out by Andrew Kolb, the story of a pair of feet that have a hard time stepping out because they are complete opposites; One Leaf, Two Leaves, Count with Me by John Micklos, illus. by Clive McFarland, a counting book with a seasonal backdrop; and Between the Lines by Nikki Grimes, in which a group of teens from diverse backgrounds use poetry to express themselves and connect with each other.
PENGUIN/PHILOMEL
Philomel lights the way with Forest of a Thousand Lanterns by Julie C. Dao, a YA fantasy debut reimagining the evil queen legend from Snow White through the lens of Asian mythology; Addison Cooke and the Tomb of Khan by Jonathan Stokes, the second adventure for amateur archaeologist Addison, who is in pursuit of the legendary tomb of Genghis Khan; Lone Stars by Mike Lupica, featuring the convergence of a young wide receiver, his favorite pro football star, and the Dallas cowboy; and Merry Christmas, Peanut! by Terry Border, about a peanut and his family who must get through a traffic jam of cookies to get to Grandma's house.
PENGUIN/PUTNAM
Putnam is seeing double with Twinderella, A Fractured Fairy Tale by Corey Rosen Schwartz, illus. by Deborah Marcero, the story of why Cinderella's twin sister Tinderella is less famous; The Mermaid by Jan Brett, an under-the-sea retelling of Goldilocks and the Three Bears; Warcross by Marie Lu, first in a YA series following a teenage bounty hunter and coder as she's pulled into a virtual reality game called Warcross; The Speaker by Traci Chee, the action-adventure sequel to The Reader; and Come with Me by Holly McGhee, illus. by Pascal Lemaitre, in which a girl's parents teach her the power of kindness, bravery, and friendship in the face of uncertainty.
PENGUIN/RAZORBILL
Razorbill introduces Gertie Milk by Simon Van Booy, a middle-grade debut starring a girl who travels through time to return lost objects to historical figures; Beasts Made of Night by Tochi Onyebuchi, kicking off a YA fantasy series about a young sin-eater who must save his kingdom; Us Kids Know by JJ Strong, following a group of unmoored teens in suburban New Jersey as they blaze destructive paths while wrestling with adolescence; and Rookie on Love by Tavi Gevinson, the initial volume in an anthology series that features exclusive content from Rookie magazine.
PENGUIN/VIKING
Viking gets loud with The First Rule of Punk by Celia C. Perez, featuring a riot grrrl trying to start a punk band at her new middle school; The Last Kids on Earth and the Nightmare King by Max Brallier, illus. by Doug Holgate, in which Jack and his friends discover that they might not be the only humans to have survived the monster apocalypse after all; The Lost Picnic by B.B. Cronin, following a grandfather and his grandchildren as they head out for a day in the country not noticing items are gradually disappearing from their basket; Snappsy the Alligator and His Best Friend Forever (Proably) by Julie Falatko, illus. by Tim Miller, the story of a chicken who wants to be the very best friend of an alligator; and Lovely Terrible True by Madeleine George, about a girl who discovers a controversial book that changes her life and ignites simmering division in her community.
PENGUIN WORKSHOP
Penguin Workshop blasts off with Project: Terra: Crash Course! by Landry Q. Walker, illus. by Keith Zoo, focusing on 11-year-old Elara's first year at the prestigious Seven Systems School of Terraforming Sciences and Arts; Jada Jones: Rock Star by Kelly Starling Lyons, illus. by Vanessa Brantley Newton, in which a fourth grader who loves science and rocks must figure out how to make new friends when her best friend moves away; Muppets Meet the Classics: The Phantom of the Opera by Gaston Leroux and Erik Forrest Jackson, illus. by James Hance, the launch title in a mash-up series featuring Muppet characters in versions of classic stories; Princess Pulverizer: Grilled Cheese and Dragons by Nancy Krulik, illus. by Ben Balistreri, about a princess who wants to be a knight, who goes on a quest with a dragon who loves to cook and a failed knight-in-training; and What the World Needs Now Is Love, featuring the lyrics to the popular song.
PENGUIN TEEN CANADA
Penguin Teen Canada presents The Agony of Bun O'Keefe by Heather Smith, the story of a girl kicked out of her troubled home who finds a caring family of eclectic friends in 1986 Newfoundland; and The Lives of Desperate Girls by MacKenzie Common, in which a teenage girl tries to learn the truth about another girl who has been found dead, and who may have a connection to her best friend's disappearance.
PHAIDON
Phaidon ties on an apron for What's Cooking? by Joshua David Stein, illus. by Julia Rothman, exploring the wordplay of food preparation; Twinkle, Twinkle, ABC by Barney Saltzberg, illus. by Fred Benaglia, a melody mash-up; Book of Bones by Gabrielle Balkan, illus. by Sam Brewster, featuring many bone superlatives: biggest, spikiest, fastest-growing; Are They Biting? by Jean Gourounas, which stars an ice-fishing penguin; and Vehicles Hide and Sneak by Bastien Contraire, a find-the-odd-one-out board book spotlighting categories of vehicles.
PRINCETON ARCHITECTURAL PRESS
Princeton Architectural Press tiptoes into fall with The Quiet Crocodile by Natacha Andriamirado, illus. by Delphine Renon, in which a quiet crocodile's friends come by to stand and play on him; Art Up Close: From Ancient to Modern by Clare d'Harcourt, which sends readers on a hunt for tiny details hidden in celebrated artworks; and Beddy-Byes Cesar (working title) by Michael Escoffier, illus. by Kris Di Giacomo, about a rabbit's difficulties falling asleep.
PUSHKIN CHILDREN'S BOOKS
Pushkin Children's Books raises its voice for Song of Seven by Tonke Dragt, about a new teacher who tells his pupils tall tales of his adventures; Piglettes by Clementine Beauvais, in which three girls who were the top finishers in an unofficial contest for the ugliest girls of their school resolve to bicycle across France to Paris; and The Adventures of Hermes, God of Thieves by Murielle Szac, illus. by Mika Provata-Carlone, a collection of short stories following Hermes in 100 journeys across the world of Greek mythology.
RANDOM HOUSE
Random House knows the secret handshake for The Losers Club by Andrew Clements, celebrating books and the joy of reading by inviting readers to reclaim the word "loser"; Wonder Woman: Warbringer (DC Icons #1) by Leigh Bardo, first in a series of licensed YA novels about superheroes from the DC Universe written by bestselling YA authors; Snow and Rose by Emily Winfield Martin, which reimagines the fairy tale Snow White and Rose Red; Uni the Unicorn and the Dream Come True by Amy Krouse Rosenthal, illus. by Brigette Barrager, sequel to Uni the Unicorn, in which a girl and her unicorn are united at last; and The Story of Barbie by Cindy Eagan, illus. by Amy Bates, profiling the world's most famous doll and her creator, Ruth Handler.
RANDOM HOUSE/CROWN
Crown puts on a hazmat suit for Poison: Deadly Deeds, Perilous Professions, and Murderous Medicines, an exploration of the role poisons have played throughout history; Bonaparte Falls Apart by Margery Cuyler, illus. by Will Terry, featuring a skeleton who is falling to pieces and recruits his friends to put him back together before the first day of school; Dear Martin by Nic Stone, a debut novel in which a teen boy turns to the words of Dr. Martin Luther King, Jr. after he is unfairly arrested; Nyxia by Scott Reintgen, launching a three-book sci-fi thriller series that takes a group of broken teens to the far reaches of the universe and forces them to decide what they're willing to risk for a lifetime of fortune; and Lucy & Andy Neanderthal: The Stone Cold Age by Jeffrey Brown, another outing for pranking Neanderthal siblings Lucy and Andy in their graphic novel series.
RANDOM HOUSE/DELACORTE
Delacorte sharpens its No. 2 pencils for The Perfect Score by Rob Buyea, introducing a group of middle school kids who devise a way to ace their student assessment tests; Genuine Fraud by E. Lockhart, a psychological thriller featuring two women, an intense friendship, and at least one murder and one bad romance; The Dollmaker of Kraków by R.M. Romero, illustrating the power of love and the inherent will to survive in a debut novel set during WWII; Otherworld by Jason Segel and Kirsten Miller, kicking off a YA sci-fi thriller series set in the near future and spotlighting the next generation of gaming; and Breathless by Tara Goedjen, a tale of deeply buried family secrets, forbidden love, and the truth about the events of a tragic summer day.
RANDOM HOUSE/DOUBLEDAY
Doubleday twiddles its thumbs with There's Nothing to Do! by Dev Petty, illus. by Mike Boldt, the third I Don't Want to Be a Frog title which finds Frog deciding he's bored, even though he's surrounded by toys.
RANDOM HOUSE/GOLDEN
Golden Books dons a construction hat for The Steam Roller by Margaret Wise Brown, illus. by Bob Staake, a little-known tale from Margaret Wise Brown's Wonderful Story Book about a girl who receives a steam roller from her parents for Christmas; My Little Golden Book About Johnny Appleseed by Lori Haskins Houran, illus. by Genevieve Godbout, an introduction to the life of pioneer missionary and gardener John Chapman, aka Johnny Appleseed; Wild Winter Adventure! by Steve Behling, illus. by Mike Jackson, inspired by Nickelodeon's Rusty Rivets series in which inventor Rusty and his friends get stranded on a snowy mountain; and The Night Before Peepsmas by Andrea Posner-Sanchez, illus. by Julissa Mora, revealing how Peeps prepare for the holidays and the arrival of Santa Peep.
RANDOM HOUSE/KNOPF
Knopf sends out a signal with Satellite by Nick Lake, spotlighting a teen born and raised on an international space station who's about to make his first trip to Earth; A Short Story of the Girl Next Door by Jared Reck, an unrequited love story about a gangly teen and the girl he adores and the event that sends his life out of control; I Am Not Your Perfect Mexican Daughter by Erika Sanchez, in which a girl copes with losing a sister amid the pressures, stereotypes, and expectations of growing up in a Mexican-American home; The Stars Beneath Our Feet by David Barclay Moore, about a boy who is trying to find a safe path for his life in the projects of Harlem after his brother's death; and Vincent Can't Sleep: Van Gogh Paints the Night Sky by Barbara Rosenstock, illus. by Mary GrandPré, a picture-book biography of the artist and one of his most famous works.
RANDOM HOUSE/ LAMB
Wendy Lamb Books settles in with The Great Hibernation by Tara Dairman, imagining what might happen if every grown-up in town fell asleep and all the kids were left in charge; and Threads of Blue by Suzanne LeFleur, sequel to Beautiful Blue World in which 12-year-old Mathilde must make her way through a new stage of the war in her country of Sofarende.
RANDOM HOUSE/SCHWARTZ & WADE
Schwartz & Wade Books makes a flap with Duck & Goose, Honk! Quack! Boo! by Tad Hills, in which the titular feathered friends are read for a night of trick-or-treating in the meadow; Ben Franklin's in My Bathroom! by Candace Fleming, illus. by Mark Fearing, which finds Ben Franklin accidentally time-traveling to a 10-year-old's home in 21st-century America; Gabriel Finley and the Lord of Air and Darkness by George D. Hagen, sequel to Gabriel Finley and the Raven's Riddle, following Gabriel and his raven Paladin as they try to free Gabriel's mother from captivity; The Book of Gold by Bob Staake, a picture book that questions if the search for knowledge is more important than the knowledge itself; and That Is My Dream! by Langston Hughes, illus. by Daniel Miyares, interpreting Hughes's celebrated poem "Dream Variation."
RUNNING PRESS
Running Press Kids puts on its gloves for Waltz of the Snowflakes by Elly MacKay, in which a girl and her grandmother take in the beauty of The Nutcracker; Brave by Stacy McAnulty, illus. by Joanne Lew-Vriethoff, which encourages kids to be brave in all the ways they can; Caleb and Kit by Beth Vrabel, in which a frail boy with cystic fibrosis meets a free-spirited girl who changes his life; Superfail by Max Brunner and Dustin Mackay, in which a group of young superheroes attempt to save the day, but have defective powers; and Earth Hates Me, in which 15-year-old author Ruby Karp addresses the issues facing every highschooler, from grades to peer pressure to Snapchat stories, and their effects on the teen psyche.
SASQUATCH/LITTLE BIGFOOT
Little Bigfoot consults the GPS for Larry Gets Lost in San Diego by John Skewes, another landmark-filled adventure for Larry the dog; Where's Halmoni? by Julie Kim, in which two young children's search for their missing grandmother leads them into a world inspired by Korean folklore; Chibj Samurai Wants a Pet: An Adventure with Little Kunoichi the Ninja Girl by Sanae Ishida, about Little Kunoichi's best friend's search for a companion pet; and Frank the Seven-Legged Spider by Michaele Razi, the story of a spider's personal crisis when he loses a leg and goes on a journey to find out who he really is.
SCHOLASTIC/BLUE SKY
Blue Sky Press waddles into fall with Penguins Love Their ABC's by Sarah Aspinall, featuring six little penguins going for an alphabet hunt in the snow; Bizzy Mizz Lizzie by David Shannon, focused on the life of young Lizzie, an overscheduled bee who learns to stop and smell the roses; and Who Killed Darius Drake?: A Mystery by Rodman Philbrick, a whodunit about two social outcasts who join forces to find jewels missing for a century as they unexpectedly bring a murderer out of hiding.
SCHOLASTIC/CARTWHEEL
Cartwheel Books tucks in the season with Good Night, Sweetie by Joyce Wan, a board book featuring bedtime imagery; Sweet Hearts by Amy E. Sklansky, illus. by Anna Dunn, spotlighting a Valentine's Day message; Beep Beep Robot! A Spinning Gears Book, a peek at gears and how they work; The Three Little Pigs: A Finger Puppet Theater Book, illus. by Michael Robertson, introducing a novelty book format with a carry-along handle, die-cut stage and four felt finger puppets; and